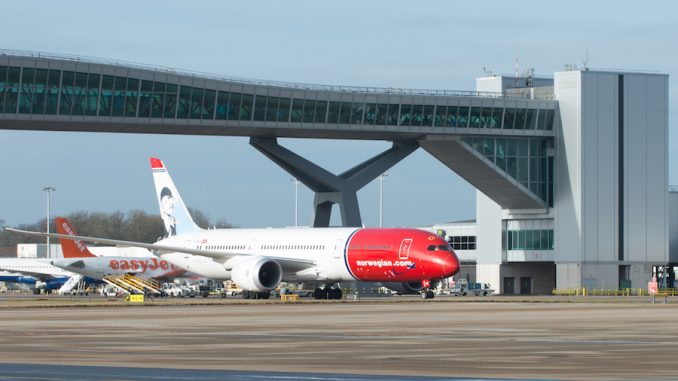 Norwegian Air Shuttle, one of Europe's largest low cost carriers, announced today the launch of a new route from London-Gatwick (LGW) to Buenos Aires, Argentina (EZE). This new route will be the airline's first destination in South America.
Beginning in February of 2018, Norwegian will begin its four weekly nonstop service to the capital of Argentina using the airline's long haul aircraft, the Boeing 787 Dreamliner. Featuring both a premium and an economy cabin, the aircraft boasts the latest in inflight technology.
Per the airline's website, beginning February 14, 2018, the four weekly flights will operate as follows: Mondays and Fridays – Departs London-Gatwick (LGW) at 08:15, arrives Buenos Aires (EZE) 19:00; Wednesdays and Saturdays – Departs London-Gatwick (LGW) at 21:30, arrives Buenos Aires (EZE) 08:15
With the launch of this flight, Norwegian will now serve 11 long haul routes to destinations across the Americas and Singapore. The airline just recently announced the launch of their London-Gatwick to Singapore route beginning in September 2017.
Moving into Buenos Aires is a strategic move for Norwegian, as it disrupts the current monopoly held by British Airways. British Airways is currently the only airline that offers nonstop service to EZE from its hub at London-Heathrow. The addition of Norwegian's flight will now offer passengers with more options and lower fares.
Norwegian CEO Bjorn Kjos said: "With our new Argentina route we are offering UK passengers more choice and lower fares to another exciting global destination. Buenos Aires is a cosmopolitan capital city with something to offer all travellers and Norwegian has fares to suit all budgets.
"From Europe, the USA, Asia and now South America, our long-haul network is going global and the UK will continue to be at the heart of our ambitious plans for expansion. We also see huge potential in the Argentinian market so this is not only a major milestone as our first South American route, it is also a first step towards ambitious plans for international and domestic growth in Argentina."
The announcement of this route comes after the parent company, Norwegian Air Shuttle, announced the start up of an Argentinian based subsidiary called Norwegian Air Argentina earlier this year.
The subsidiary is planned to operate domestic flights within Argentina using a fleet of Boeing 737-800 aircraft. The first base of operation for the airline is to be out of Buenos Aires, with Córdoba and Mendoza as considerations for other bases.
With the beginning of the LGW-EZE flight as well as establishing Norwegian Air Argentina, the airline will be able to offer more customers from Europe easier connections throughout Argentina and South America, as well as South American customers travelling to the United Kingdom and beyond.
The airline has been seeing a consistent increase in the number of passengers flying with the low cost carrier. In May, the airline announced a year-over-year increase of 11% of passengers. Norwegian is continuing expansion of its route network from all different destinations in Europe with one of the newest fleet in the industry, with the average aicraft being only 3.6 years old. 

Ever since he made his first trip on a Boeing 747 in 2005, Samuel has been an AvGeek at heart. He is a dedicated United (ex-Continental) loyalist and frequent flier who attempts to live by Continental's slogan, "Work Hard, Fly Right." He has a huge love for the Boeing 777 along with any other Boeing wide body aircraft. Samuel is an avid collector of all types of airplane memorabilia ranging from model airplanes to in-flight magazines. In his free time, Samuel enjoys playing guitar and piano, and he is constantly on various airline websites scanning for any breaking news.

Latest posts by Samuel Chen (see all)