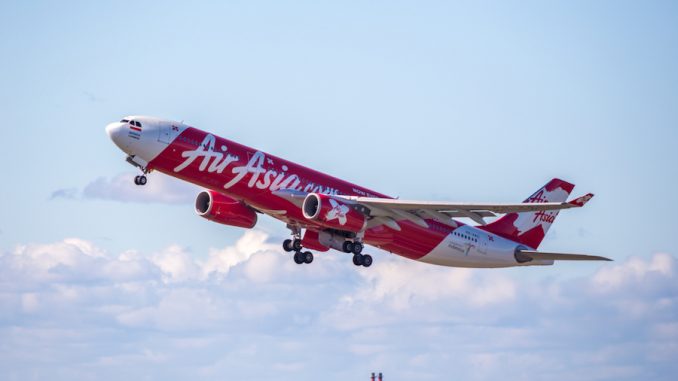 Passengers on a recent AirAsia X flight from Perth, Australia to Kuala Lumpur, Malaysia were in for a surprise on Sunday as the aircraft was forced to return to Perth while shaking like a "washing machine" for two hours, according to passengers.
Passengers reported hearing a "huge bang" about two hours into the flight, after which the Airbus A330 began to shake rapidly. Passengers then claim that the Captain came on the PA system to ask the passengers to pray for the safe return of the flight.
The aircraft, which flew back with one engine, landed in Perth two hours later. The passengers remained in a brace position as a safety measure during the landing.
Fortunately, no one was injured during the incident and passengers aboard the flight claim that the airline was very forthcoming with the information, stating the problems stemmed from one of the engines and that the pilot had over 40 years of experience.
The AirAsia X Airbus A330 was flying with Rolls-Royce Trent 700 engines, which have had two previous incidents this year.
Two weeks ago, a China Eastern Airlines A330 using the Trent 700s was forced to return to Sydney after departing for Shanghai after a part of the engine broke apart.
In May, an EgyptAir flight from Cairo to Beijing had to abort a takeoff after its left engine, also a Trent 700, failed. Photo evidence from the incident showed a large hole in the cowling of the engine.
Both AirAsia and Rolls-Royce have released statements claiming that they are looking into the issues.
There is no concrete evidence yet on whether the issue could be tied to the specific engines or AirAsia's operational policies, with yesterday's incident being the latest in a string of oversight issues to affect the Kuala Lumpur-based AirAsia Group.
In December of 2014, an Indonesian AirAsia A320 crashed into the sea on a flight to Singapore after a high-altitude stall, killing all 162 passengers on board. According to a safety committee report by Indonesian authorities, the airline had encountered issues with the aircraft's rudder multiple times, yet the opportunities to fix the problem were missed and the A320 was still flown to Perth 38 times.
In March of 2015, the Captain of an AirAsia X flight from Sydney to Kuala Lumpur accidentally entered the wrong latitude into the Airbus A330s flight management system, causing the aircraft to fly in the wrong direction and cross the departure path of a runway at Sydney's airport.
February of last year, an AirAsia A320 from Bali to Perth flew 984 ft. (300 m) too low on approach in severe turbulence. As a result, the A320 plunged and the aircraft's speed fell by 32 knots (60km/h), right above its stalling speed.
The airline has taken steps to improve its safety record, stating that they comply with all regulations and requirements for the countries they operate in, including self-initiating IATA Operational Safety Audits (IOSA) for all airlines within the group, including AirAsia X Malaysia and AirAsia Indonesia.
Passengers stranded in Perth after Sunday's incident continued on to Kuala Lumpur the following morning on another AirAsia X aircraft sent from Malaysia. However, some passengers opted to remain in Australia and find a different airline to get them to their destination.
An "AvGeek" for most of his life, Akhil has always been drawn to aviation. If there is an opportunity to read about an airline, fly on a new airplane, or talk to anyone about aviation, he is on it. Akhil has been on over 20 different kinds of aircraft, his favorite being the MD-80. Additionally, he has visited 5 continents and plans to knock out the remaining two (Africa and Antarctica) soon. Based in Dallas, Akhil graduated from Texas A&M University with a degree in Management Information Systems and currently works in consulting. His dream is to become an airline executive.
Latest posts by Akhil Dewan (see all)