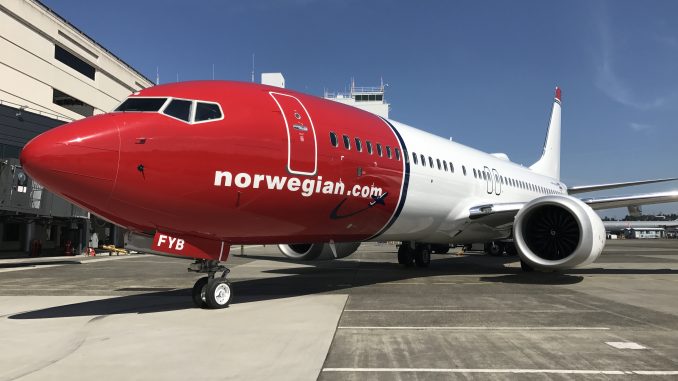 As of June 29, 2017, Norwegian Air took delivery of two 737 MAX 8s, becoming the first European airline to take delivery of a 737 MAX aircraft. Following a ceremony and celebration at Boeing's Seattle Delivery Center, select guests departed on one of the two new aircraft for a flight back to Oslo.
"We have been eagerly awaiting the delivery of our Boeing 737 MAX, and we are overjoyed to have it join our fleet today," said Norwegian Chief Executive Officer, Bjørn Kjos. "We are the first European airline to operate this brand-new aircraft, and we're also the first airline in the world to operate it to and from the United States."
Kjos continued, "This aircraft allows us to open up new, unserved routes and offer both Americans and Europeans even more affordable transatlantic fares. It will also provide our passengers with a quieter on board experience, whilst it significantly reduces both fuel use and carbon dioxide emissions."
The airline intends to use the aircraft for transatlantic flights, and in doing so will be the first carrier to implement a 737MAX in this way. In addition to the two aircraft delivered today, Norwegian has an additional 108 737 MAX 8 variant aircraft on order.
"The 737 MAX 8 is a significant addition to Norwegian's fleet, enabling the airline to start the next chapter in its incredible growth story of low-cost, long-haul travel," said Boeing Commercial Airplanes President and CEO, Kevin McAllister. "It is a tremendous honor that a brand as innovative as Norwegian will be the first European carrier to fly the 737 MAX, and we are certain that this airplane will play a key role in its continued success."
The sixth largest low-cost carrier in the world, Norwegian operates flights to over 150 cities in Europe and around the globe while maintaining an advanced fleet of 737-800 and 787 Dreamliner aircraft, which feature their own unique design.
Ashley is currently a senior in high school and plans on pursuing a career in aviation or journalism. Her favorite airplanes include the Boeing 777, 737MAX, and Airbus A350. She enjoys taking flights on various airlines to different airports and planespotting at her local airports.
Latest posts by Ashley Magoon (see all)