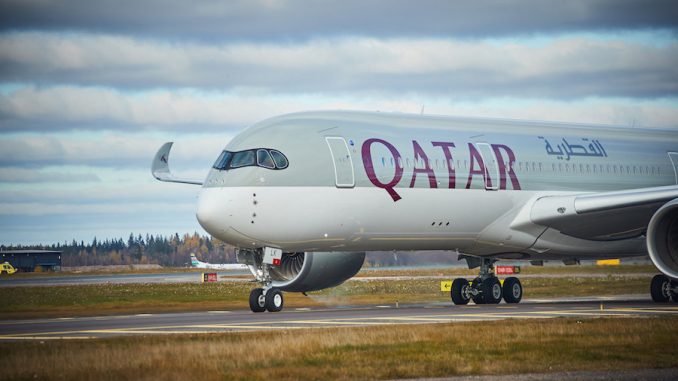 Despite continued public relations attacks from major U.S. airlines on carriers in the Middle East, Qatar Airways plans to move forward with its initiative to begin purchasing shares of up to 4.75% of American Airlines' stock.
Per company rules, no one can purchase more than 4.75% of American's total stock without the board's approval. Given that the purchase will be right along this threshold, no board approval will be required.  The purchase comes at a unique time in global aviation, as all three legacy carriers in the United States, particularly Delta Air Lines, have made it very clear of their opposition to the Gulf carriers including Emirates, Etihad Airways and Qatar Airlines due to their subsidized operations.
Following an SEC announcement from American last month stating Qatar's eventual intent to purchase 10% of American, CEO Doug Parker was quick to note that the investment was not necessarily a welcomed one.
While anyone can purchase our shares in the open market, we aren't particularly excited about Qatar's outreach," Parker wrote in a letter to employees. "We find it extremely puzzling given our extremely public stance on the illegal subsidies that Qatar, Emirates, and Etihad have all received over the years from that government."
The Partnership for Open and Fair Skies, as a coalition of American, Delta, United and several of the companies' employee unions, has continued to highlight examples through press releases and videos its view of the $52 billion Gulf airlines have received in unfair subsidies.
In previous statements, all three Gulf airlines have denied that the payments are government subsidies, but rather are loans that can be justifiable since the airlines are owned by their governments. Over the last three years the U.S. government completed a formal review of the subsidization claims, and solicited responses from each of the major Gulf carriers.
In a formal white-paper, Qatar Airways' CEO, Akbar Al Baker stated "It is puzzling to see the biggest US carriers describe Qatar Airways as a 'threat', given our small size and lack of direct competition with them. Their long-standing focus on other markets, and large (and growing) profits completely undercut this claim."
Etihad's CEO, James Hogan, held a similar view, stating "Our shareholder's equity and loans are not subsidies under any applicable definition. They are the means by which the Abu Dhabi government has sensibly invested in a successful business model."

Joe joined AirlineGeeks in 2014, and in his current role as Editor-in-Chief manages a growing team of writers both in North America and Europe. He enjoys spending the bulk of his time researching, learning and analyzing the latest trends in the airline industry, all while mentoring new members of the AirlineGeeks team who seek to do the same. Areas of research include revenue management, codeshare and alliance partnerships and airline financial results.

Latest posts by Joe Pesek (see all)