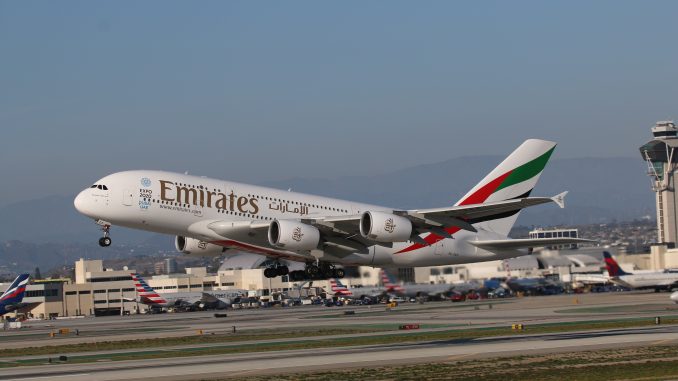 On the 25th anniversary of the first Open Skies agreement signed by the U.S. State Department, Emirates released a public statement showing that it has helped support more than 104,000 American jobs as well as contributed $21.3 billion to the U.S. economy in 2015. The study was completed by Campbell-Hill Aviation Group, a consulting firm based in the U.S.
Sir Tim Clark, President of Emirates stated: "Campbell-Hill's data reaffirms the significant stimulative effect of Emirates' operations on the U.S. economy. It shows we've brought hundreds of thousands of new travelers to the United States, helped increase competitive air transport options for over a million American and international travelers who flew with us, and contributed to increased demand for U.S. exports in aerospace and many other sectors."
The press release, which has yet to receive commentary from the Partnership for Open and Fair Skies, seeks to help solidify that rather than serving as a detriment to the U.S. economy, Middle Eastern-airlines like Emirates allow for more international commerce and therefore jobs and revenue in the U.S.
Clark continued, stating that "Emirates has always embraced the goals of Open Skies which are to promote increased travel and trade, enhance productivity, and stimulate high-quality job opportunities and economic growth. Delta Air Lines, American Airlines, United Airlines and their proxies continually pour money in to lobby and make unfounded accusations against Emirates, but they have never filed a formal U.S. Department of Transportation complaint against Emirates, even though this is the statutory process long relied on by U.S. airlines to address allegations of unfair competition."
The airline has regularly argued that its biggest economic impactor in the U.S. has been its continued massive purchases of Boeing 777 aircraft, but this statement marks a change in tactics as it attempts to portray an image that it supports not just manufacturing jobs, but other sectors of the American economy as well.
Emirates went on to say that it has 171 aircraft still on order from Boeing, and that its home country, the U.A.E., continues to be the largest export market for U.S. goods in the Middle East Africa South Asia (MEASA) region.

Joe joined AirlineGeeks in 2014, and in his current role as Editor-in-Chief manages a growing team of writers both in North America and Europe. He enjoys spending the bulk of his time researching, learning and analyzing the latest trends in the airline industry, all while mentoring new members of the AirlineGeeks team who seek to do the same. Areas of research include revenue management, codeshare and alliance partnerships and airline financial results.

Latest posts by Joe Pesek (see all)