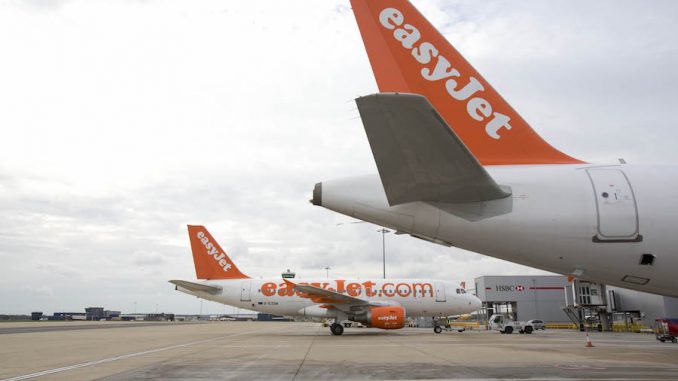 As of July 11, 2017, easyJet announced that the first group of pilots with a BSc (Hons) in Professional Aviation Pilot Practice Degree had graduated. Tuesday marks the completion of the first airline-sponsored PAPP degree. Seven pilots graduated from the program on Tuesday, the first of over 130 currently enrolled through Middlesex University.
"I am thrilled to be graduating alongside my colleagues today on the BSc (Hons) in Professional Aviation Pilot Practice. This course has given me the opportunity to undertake a degree alongside my commercial pilot training," said easyJet pilot Anna Grady.
"The degree is designed in a way that fits very well into the flight training schedule, with no degree modules required at key pressure points – for example, during the 14 ATPL exams that all pilots undertake.  I consider the degree has taught me to be a reflective practitioner, continually assessing how I can improve my performance," Grady continued.
Launched in 2013, the special program came to be as the result of a joint effort between Middlesex University, L3 Commercial Training Solutions, which is an airline pilot training and simulation organization, and easyJet, and is run through the Institute of Work-based Learning.
Ultimately, the first two years are completed at L3's Airline Academy, while the final two years are completed while the pilots fly as a first officer for easyJet.
"L3's Airline Academy graduates join easyJet as co-pilots and once they have completed their first year with us they can then join easyJet as permanent employees.  After flying for a further two years and reaching 2500 hours with easyJet they then become Senior First Officers.  From that stage the aim is to achieve their Command and become Captains," explained Brian Tyrrell, Head of Flight Operations, easyJet. "With easyJet's continued planned growth the time taken from First Officer to Captain is likely to be quicker than at other airlines. Beyond that there are further opportunities for pilots to develop their career whether that is into a training or management role."
Additionally, the degree course provides access to student loans and other resources to financially assist students.
Ashley is currently a senior in high school and plans on pursuing a career in aviation or journalism. Her favorite airplanes include the Boeing 777, 737MAX, and Airbus A350. She enjoys taking flights on various airlines to different airports and planespotting at her local airports.
Latest posts by Ashley Magoon (see all)