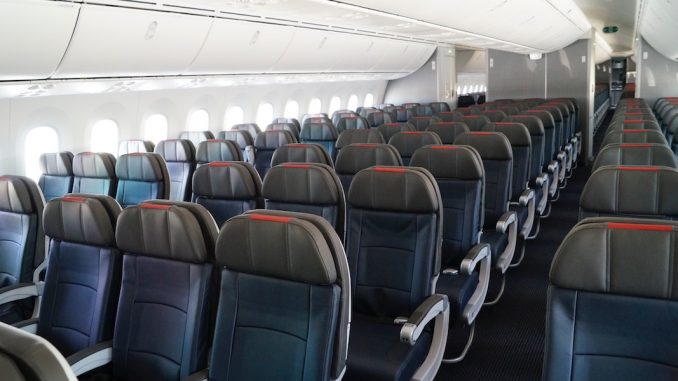 Congress will be taking a vote on a previously introduced act this week, the Safe Egress in Air Travel (SEAT) Act. The bill, which has failed several times before, is hoping to direct the Federal Aviation Administration (FAA) to study past aircraft evacuations and issue regulations for minimum seat sizes.
It is no secret that the distance between each seat in an aircraft has only gotten smaller over the past few years, allowing airlines to squeeze more seats and people in, maximizing the profit they make per flight.
Additionally, many people have expressed concern regarding evacuation processes as airplanes get fitted with more and more people.
However, Representative Steve Cohen (D-TN) is hoping to change that with his SEAT Act.
"I don't want to see a day when there's a plane crash and the [NTSB] ascertains that the plane couldn't be evacuated in the proper time and people lost their lives from smoke inhalation of fire," said Cohen in an interview with Yahoo Finance. "Often it's a tragedy that gets Congress to act. Safety and health are issues, and that's the way we've framed it to get support."
In an effort to have the bill approved this time, Cohen has been able to integrate his proposed bill into the FAA reauthorization bill as an amendment.
Working Across the Aisle
Cohen claims that evacuations from new aircraft are not being tested using the smaller seats which airlines use today. His bill has received support from other Democrats within the House, as well as from his colleagues across the aisle, like Representative Adam Kinzinger (R-IL).
Kinzinger worked on a version of the SEAT Act earlier this year with Cohen, and in a statement released from Kinzinger's office, he said, "We must ensure standards are in place to provide safe air travel for passengers. Cutting down legroom to add more seats to the already crowded planes is simply dangerous."
Naturally, many airlines and industry groups are against the passing of the bill, claiming that passengers can "vote with their wallet" and can pick an airline on which they feel the most comfortable on.
Potential Delay in Results
If the bill passes this time, results will not be immediately evident. With the FAA being focused more on regulations and less on consumer experience, it is possible that the FAA can rule evacuation tests as a low priority issue, meaning passengers will still have to pay more for more leg-room.
According to the FAA, regulations stipulate that aircraft with more than 44 seats be evacuated within 90 seconds of an incident. Additionally, when performing evacuation tests, requirements include full scale demonstrations, lighting conditions, similar aircraft configuration, and a mix of passengers.
Aircraft manufacturers also have to perform additional demonstrations if an airline plans to increase the seating capacity of an aircraft beyond what had previously been determined.
An "AvGeek" for most of his life, Akhil has always been drawn to aviation. If there is an opportunity to read about an airline, fly on a new airplane, or talk to anyone about aviation, he is on it. Akhil has been on over 20 different kinds of aircraft, his favorite being the MD-80. Additionally, he has visited 5 continents and plans to knock out the remaining two (Africa and Antarctica) soon. Based in Dallas, Akhil graduated from Texas A&M University with a degree in Management Information Systems and currently works in consulting. His dream is to become an airline executive.
Latest posts by Akhil Dewan (see all)