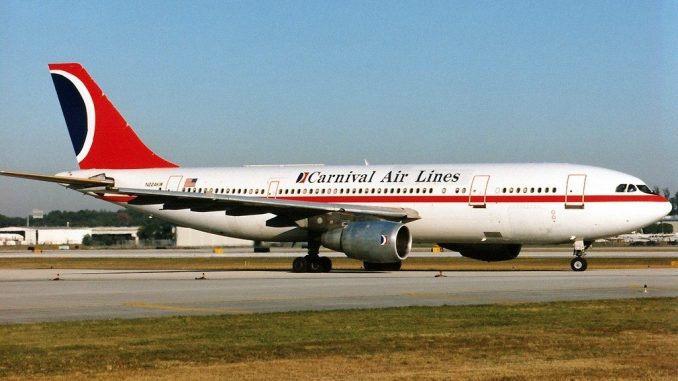 With the cruise industry performing well, particularly for Miami-based Carnival Cruise Lines in the late 1970s and early 1980s, founder and CEO Ted Arison decided to experiment with the airline market. The company purchased charter airline Pacific Interstate Airlines with the goal of using Boeing 737 classic aircraft to operate between northeastern cities and the Caribbean Sea's top destinations.
The airline changed its name in June 1989 to become Carnival Air Lines and started scheduled flights between New York, Nassau and Miami in August. The airline's livery was made to match that of the cruise ships, with the airline's fuselage having a single red strip running longways.
Meanwhile, the aircraft tail's livery matched the scheme that is on a Carnival ship's funnel. Also to match its sister carrier of the seas, Carnival Air Lines's aircraft were named "Fun Jets", similar to Carnival Cruise's "Fun Ships."
The airline began to take off in the early 1990s, adding service to four more Florida cities, three cities in Puerto Rico and two in Hispaniola, as well as launching points from smaller Northeastern airports like West Plains, New York, Worchester, Massachusetts, and Newburgh, New York. To meet demand, the airline added the Boeing 727 and the Boeing 737-300 to the fleet.
Alongside the growth, Carnival realized its ability to market its flights near its cruise ship launching points. The airline had made it a priority to have their hubs be in Fort Lauderdale and Miami since most of their cruises launched from those two cities.
Furthermore, the airline signed codeshare deals with various European and Caribbean airlines in hopes of opening up the Caribbean market to more travelers. High frequency seasons, specifically spring and summer, were aided with the leasing of Airbus A300s from Europe.
However, the airline started to fall apart in 1995. The rising price of fuel was leaving Carnival Air Lines, as well as other global airlines, cash strapped.
To compound the situation, parent company Carnival Corporation was spending large sums of money as the cruise line was taking hold of eleven cruise ships between 1990 and 2000 that would make up the next generation of ships for Carnival, referred to as the "Fantasy" and "Destiny" classes. This left very little room for error in Carnival's finances.
However, a potential buyer emerged for Carnival Air Lines. A Miami based businessman had purchased the name of Pan American World Airways, and had started to use Airbus A300s to fly out of Miami. The airline had seen Carnival as a way to expand the carrier and attempted to buy Carnival in 1994. Unfortunately, the deal went sour and the carriers would go separate ways until 1997, when a second deal from Pan Am would be agreed upon.
However, both carriers were looking to the other for survival. The two had combined losses of over $150 million between the two deals, and soon after merging cuts had to be made. The Airbus A300s that were used by Pan Am were grounded, and staff were laid off as the airline looked for a way to stay afloat.
The airline attempted to remain financially solvent by removing the Boeing 727s and becoming an all Boeing 737 fleet to streamline costs. Unfortunately little changed, and the airline continued to fall further and further behind on finances until it claimed bankruptcy on February 26, 1998.
The Pan Am name and brand was immediately taken over by the Massachusetts carrier Boston-Maine Airways with the hopes using the Pan Am name to gain popularity, but the carrier would eventually fall into a similar fate as Pan Am II and cease operations in 2008.
Although Ian McMurtry was never originally an avgeek, he did enjoy watching US Airways aircraft across western Pennsylvania in the early 2000s. He lived along the Pennsylvania Railroad and took a liking to trains but a change of scenery in the mid-2000s saw him shift more of an interest into aviation. He would eventually express this passion by taking flying lessons in mid-Missouri and joining AirlineGeeks in 2013. Now living in Wichita, Kansas, Ian is in college majoring in aerospace engineering and minoring in business administration at Wichita State University.
Latest posts by Ian McMurtry (see all)