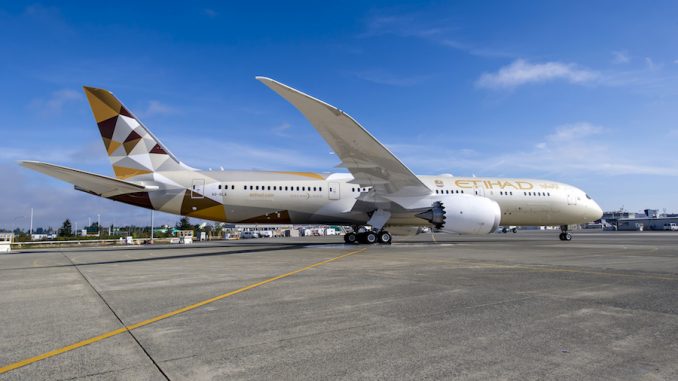 Under continued pressure from rivals in the Middle East, as well as global terrorism concerns and low oil prices, Etihad recorded a $1.87 billion loss on $8.36 billion in revenue for its 2016 fiscal year.
Chairman of Etihad's board, H.E. Mohamed Mubarak Fadhel Al Mazrouei, stated "A culmination of factors contributed to the disappointing results for 2016. The Board and executive team have been working since last year to address the issues and challenges through a comprehensive strategic review aimed at driving improved performance across the group, which includes a full review of our airline equity partnership strategy."
The result contrasts with a net profit in 2015 of $103 million, and further shows the challenges that the global aviation industry is facing. For Etihad, passenger revenue remained flat even though it carried more passengers, reflecting in it's growth in the amount of available seat kilometers (ASKs). The average load factor for the airline also declined slightly, down from 79.4 percent to 78.6 percent.
While some of the key indicators for Etihad showed decline, two of the biggest hits to Etihad's financial performance occurred in a $1.06 billion charge on aircraft as well as a $808 million charge on assets related to its struggling investments in Alitalia and airberlin.
The purchase of a portion of the two airlines, along with positions in Darwin Airline, Jet Airways, Air Serbia, Air Seychelles and Virgin Australia, were all a part of former CEO James Hogan's plan to grow the airline rapidly alongside its competition in the Middle East. Unfortunately, the strategy has struggled to create much return, as both Alitalia and airberlin continue to struggle with mounting losses, leading to Hogan's resignation in early 2017.
Since Hogan left Etihad, the airline has been actively searching for a permanent CEO. In the meantime, it is actively trying to determine the best plan forward for its stakes in various airlines. A week ago, the airline sold its minority stake in Switzerland-based Darwin Airline. Alitalia is currently going through bankruptcy proceedings in Italy after rejecting Etihad's restructuring plan in April.
On an upbeat note, the airline has commenced a new cost savings initiative that has already saved the airline 4% of its total overhead costs related to headcount reductions and other savings. It hopes that further initiatives along with less risk in its financial partners will help to turn the airline around in the coming months.

Joe joined AirlineGeeks in 2014, and in his current role as Editor-in-Chief manages a growing team of writers both in North America and Europe. He enjoys spending the bulk of his time researching, learning and analyzing the latest trends in the airline industry, all while mentoring new members of the AirlineGeeks team who seek to do the same. Areas of research include revenue management, codeshare and alliance partnerships and airline financial results.

Latest posts by Joe Pesek (see all)