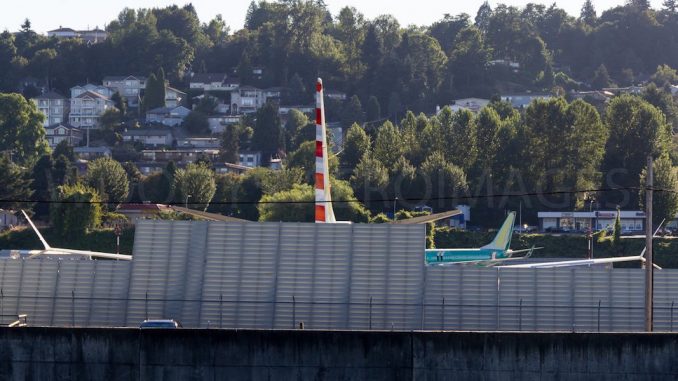 American Airlines' first Boeing 737 MAX 8 made an appearance on the flightline in Renton, Wash. on Sunday after completing final assembly. The Fort Worth-based carrier has 100 737 MAX aircraft on order with four deliveries in 2017, 16 in 2018, and 20 in the year after.
The next-generation 737 aircraft will see a total of 172 seats. The new aircraft type was met with much attention following an announcement in early May that it will see 29-inches of seat pitch in the main cabin.
In June, the airline reversed its course, saying that the new airplane will see 30-inches of main cabin seat pitch. To do this, American removed one row of Main Cabin Extra seating. Now, the aircraft will see 30 seats in Main Cabin Extra instead of 36.
Economy seats onboard the 737 MAX are Rockwell Collin Interior System's Meridian design. These are more comfortable than older generation economy seat designs, according to the carrier.
"Designing aircraft interiors is an art and a science. It requires us to take into account customer experience, revenue, and other considerations," said American Airlines President Robert Isom in an internal statement.
American's new 737 MAX aircraft will not feature inflight entertainment, but will be configured with satellite-based ViaSat Wi-Fi which will allow passengers to stream video content such as HBO and Netflix.
The airline's first 737 MAX 8 is visible on the Renton flightline with a painted rudder and green fuselage. Even though delivery is coming in fall, American has yet to announce any firm plans for routes and schedules.
AirlineGeeks.com began in February, 2013 as a one-man (er… teenager, rather) show. Since then, we've grown to have 20 active team members, and yes, we're still growing. Some of us are looking to work in the aviation industry as professionals when we grow older. Some of us are still trying to decide what we want to do. That's okay though, because we're all here for the same reason: we love the airlines. We're the youngest team of airline industry journalists out there.
Latest posts by AirlineGeeks.com Staff (see all)