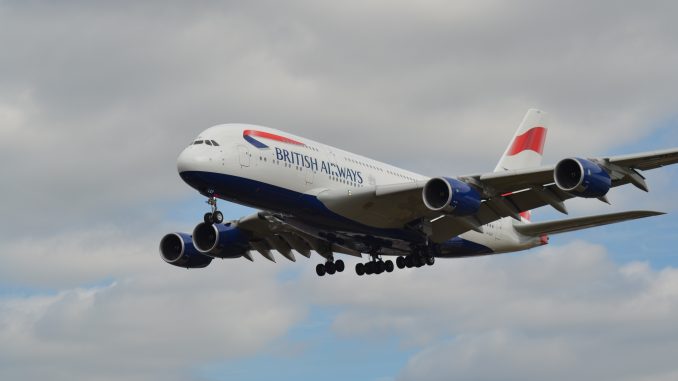 British Airways has announced its latest Airbus A380 service will be to the Windy City. The new service, which will launch in May of 2018, will be the first regularly scheduled service of an A380 into Chicago O'Hare International Airport.
British Airways currently operates two daily services to the airport, BA 297 and BA 295, with the A380 expected to replace the Boeing 747 currently operating the latter.
While this will be the first regular service of the A380 into O'hare, it is not the first A380 to land at the airport. Back in 2007, Lufthansa took one of its A380s into the airport while undertaking a tour of the US to complete FAA required technical procedures.
Dubai-based Emirates then flew one of its A380 aircraft into O'Hare to test out the improvements designed to allow the airport to accommodate the large jet back in July last year.
City Aviation Commissioner, Ginger Evans, said, "The arrival of the Emirates' A380 plane to O'Hare International Airport is exciting for the city of Chicago."
While the special service was met with excitement by everyone involved, it was not without incident. It was reported at the time that the aircraft suffered minor damage by a jet bridge shortly after its arrival into the airport.
Today's #EK235 A380 (A6-EOE) was slightly damaged by a jet bridge at O'Hare upon arrival. Return possibly cancelled. pic.twitter.com/Dt0zRD8vNe

— Flightradar24 (@flightradar24) July 19, 2016
Even though the airport has maintained a sufficient runway to accommodate the aircraft since 2013, it lacked a gate large enough to accommodate the double-decker plane. The airport carried out extensive renovations to a gate last year, costing nearly $5 million.
The upgrades are part of a project to expand Terminal 5 and redevelop Terminal 2 in a move which Ginger Evans said "will let O'Hare handle scheduled or emergency A380 flights diverted from another airport and keep O'Hare competitive."
The city will also be constructing a second 200-foot-wide runway to accommodate the aircraft, said Gregg Cunningham, special projects coordinator. The runway is due to be in service in 2020. British Airways' A380 service to Chicago will launch in May of next year, and tickets are currently available online for reservation.
Josh is a long-term aviation enthusiast and aspiring commercial airline pilot. From a young age, he has immersed himself in all things aviation. From plane spotting at local airports and airfield to racking up frequent flier miles on trips abroad, Josh is a huge AvGeek at heart. He graduated from university in September 2017 with a first class Bachelor of Science degree in Air transport. He completed his pilot training, gaining his Frozen ATPL in November 2017 upon completion of his Multi-Engine Instrument rating and Multi-crew/Jet orientation course. He currently has around 230 hours of flying experience in various aircraft. He hopes to join an airline as a first officer by the end of 2017.

He frequently flies on one of his favorite airlines, British Airways, and is an avid Avios collector and British Airways Executive Club member.
In his spare time, while not studying, flying or immersing himself in aviation he enjoys spending his time volunteering in a variety of roles and running a blog to help other aspiring pilots pursue their dream.
Latest posts by Joshua Drabble (see all)