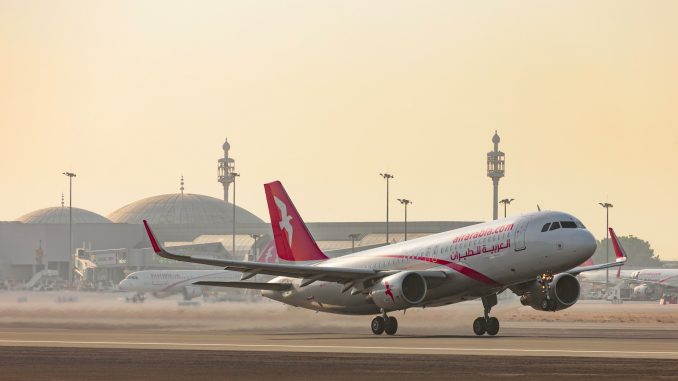 Air Arabia, which has historically operated an all-Airbus fleet, is considering multiple manufacturers for its future fleet expansion. The airline, which is based in Sharjah, U.A.E., has quickly become one of the largest low-cost carriers in the Middle East, and is considering the purchase of new, more fuel efficient aircraft for its future fleet expansion in a statement made by the airline's chief executive.
Air Arabia's second quarter profits rose 21 percent last week, and is expecting to look at aircraft from Airbus, Boeing and Embraer. The carrier's Chief Executive, Adel Ali, said in an interview with The National last week that "We will continue to evaluate, the industry is changing, new technology is coming in, and at the right time we will put an order in."
The airline currently operates a fleet of 44 Airbus A320 aircraft to over 120 destinations throughout the Middle East, North Africa, India, Central Asia and Europe.
While Adel Ali did not provide a time frame for the order, or any idea on the number of aircraft likely to be ordered, he has said the company is not looking at debt financing, and will instead utilise low interest rates to finance its new aircraft.
The airline has benefited from a strong first half of the year, pushed forward by the arrival of two new Airbus A320 aircraft, along with the introduction of 12 new routes from its key operating hubs in the U.A.E., Egypt, Jordan and Morocco.
In a statement on the airline's financial results, Air Arabia Chairman, Shaikh Abdullah Bin Mohammad Al Thani, said "The first half of this year has seen Air Arabia continue its robust growth by launching new routes and increasing capacity across its operating hubs while remaining focused on driving operating cost margins lower by day."
He went on to describe the carriers strong second-quarter performance as a "Testament to the carrier's operational efficiency and robust growth strategy."
Chief executive Adel Ali has attributed the success of the carrier, despite the economic downturn, to the carrier remaining true to the low-cost model, highlighting how its competitors, flydubai and Jazeera Airways, are instead offering passengers a variety of premium services. Low-cost carrier Flydubai announced a 69 percent decline in earnings in 2016, highlighting the challenging economic times as the main cause.
Regardless of current economic situation, Chairman Shaikh Abdullah has confidence in the low-cost model and the airlines place in the market, further noting that "As we continue to further expand our reach and network, we remain focused on operational efficiency, cost control as well as delivering even more value for money air travel to our customers."
Josh is a long-term aviation enthusiast and aspiring commercial airline pilot. From a young age, he has immersed himself in all things aviation. From plane spotting at local airports and airfield to racking up frequent flier miles on trips abroad, Josh is a huge AvGeek at heart. He graduated from university in September 2017 with a first class Bachelor of Science degree in Air transport. He completed his pilot training, gaining his Frozen ATPL in November 2017 upon completion of his Multi-Engine Instrument rating and Multi-crew/Jet orientation course. He currently has around 230 hours of flying experience in various aircraft. He hopes to join an airline as a first officer by the end of 2017.

He frequently flies on one of his favorite airlines, British Airways, and is an avid Avios collector and British Airways Executive Club member.
In his spare time, while not studying, flying or immersing himself in aviation he enjoys spending his time volunteering in a variety of roles and running a blog to help other aspiring pilots pursue their dream.
Latest posts by Joshua Drabble (see all)