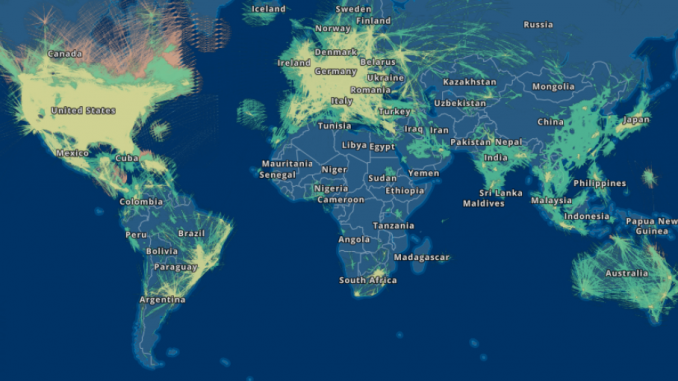 Technology in relation to the aviation industry has morphed into something that has never previously existed. In just a decade, flight tracking technology has evolved into something that isn't just seen by controllers and airline employees, but is accessible to the general public to as well. What was once only available to the few is now at the disposal of the many, for free. As one of the major flight tracking companies in existence, FlightAware is leading the charge in a growing, high-demand industry. This is part one of a series detailing my visit to FlightAware's headquarters located in Houston, TX.
Founded in 2005, FlightAware is currently located in the middle of one of the busiest areas of Houston, and provides service to over 10,000 aircraft operators and industry service providers, some of the notable customers being United Airlines and Hawaiian Airlines, among others. In addition, the company has served over 12 million passengers.
The company's current Houston base of operation, which has been located in the same building since 2007, is in charge of system software development, sales, and customer support.
However, FlightAware has global operations, with bases in New York, which was founded in 2008, and Singapore, founded in 2016, in charge of advertising sales and aviation services, respectively. All in all, the company has around 70 team members employed in their Houston, New York, and Singapore offices.
FlightAware offers a variety of account types for its consumers and sells its data to businesses. While being a guest user is free, registered members and premium members are entitled to many more features. The main variations in the accounts include how far in history back flights can be tracked and the number of flights per page on on multi-flight views. A premium account starts at $19.95/month.
Businesses can purchase the data through FlightAware's API, Firehose or custom reports. They also offer a service that allows owners of blocked aircraft to selectively unblock their tail numbers so that certain individuals are able to track them.
A Small Start Up
While the company is constantly looking for more ways to soar ahead of its competitors, FlightAware itself has very humble roots. Daniel Baker, FlightAware's CEO and Founder, saw a gap in the industry that he wanted to fill.
"In 2005, when I was flying around Texas in a Cessna, I realized that there was no way for people to be able to track my flights," said Baker. "If you were flying on Southwest or American, you could go to their website, but for a Cessna 172 there wasn't, which struck me as odd because you're flying from the same runways, the same IFR routes as United, but you don't have that availability."
After making a call to the FAA and proposing what he calls a "transparent interface" into the air traffic control system for general aviation, Baker received a data feed from the FAA that had flight plans, departure information, radar positions, amendments to routes, and arrivals for every plane in U.S. airspace.
From that information, Baker worked in his free time with current CTO, Karl Lehenbauer, to create FlightAware, which only covered airport arrival and departure information at the time. Lehenbauer recollects that "it was really, really, cheesy. It was very minimal, it was ugly, but it was fun."
Baker explained that "the goal was a hobby, it was for fun, it was 'hey, this will be cool if we can put an ad on it and make our server hosting fees back,' but I didn't have any commercial ambitions." What became a hobby would soon become a full-time job for both of them.
FlightAware went from a small, internal development team to something that became very popular in the general aviation field. Lehenbauer explains that "at first, we really just supported general aviation. We had airline information, but we didn't have it in a way that was very useful to people flying in airplanes and being in airplanes."
Baker and Lehenbauer were originally planning on keeping their project a secret for some time. However, they were both in for a surprise one morning: they woke up to hundreds of new registrations. It turned out that someone had spread the news of a general aviation flight tracker at that person's respective company.
Such a sudden increase in registration really helped spur FlightAware's growth. According to Baker, "that was the overnight surprise to us. For the next few years, we had growth, but not incredible growth as we figured out what the business model was." Lehenbauer says that this overnight surprise "made us work a lot harder to make FlightAware a lot better really quickly."
After later receiving a second feed detailing gates, baggage claim information, scheduled departures and arrivals, Lehenbauer was tasked with integrating these feeds into information that was usable for incorporating commercial aviation into FlightAware's systems.  
In 2008, the recession took place. But despite this, FlightAware continued to expand internationally and began incorporation of airline data. In 2011 through 2012, the company saw some major turning points: "we began partnering with data link companies, getting European data and Australian data, and we went from a couple of countries to now 55 countries," said Baker.
And the company has continued to grow since then. FlightAware has over 14,000 ADS-B (Automatic Dependent Surveillance-Broadcast) ground receivers positioned in over 160 countries that help make their flight tracking systems even more accurate. These individual ADS-B receivers allow its users to track signals from planes from as far as 250 nautical miles, sending data back to FlightAware.
In addition, FlightAware has entered into partnership with Aireon to collect space-based ADS-B data. As a result, FlightAware is able to provide 100 percent coverage across the globe.
An Aviation Enthusiast Workplace
FlightAware has created a company culture that's hard to recreate anywhere else. To be in a place where everyone has a passion for the aviation industry is amazing for any AvGeek. To give a perspective, most employees have some sort of pilot license/certification, including Mr. Baker and Mr. Lehenbauer.
Sara Orsi, Senior Marketing Manager of FlightAware, explains that many employees at FlightAware have their pilot's license, and everyone shares a passion for aviation. While Ms. Orsi doesn't currently have a license, she says she plans to get one as soon as possible.
FlightAware also offers LunchAware, an internal service where employees vote on where to cater lunch from each day. They then can place their order directly through this system. It's a workplace where everyone eats lunch together, something that you don't normally see in most offices.
The company is continuing to soar both figuratively and literally. Due to their tremendous growth, FlightAware is soon relocating to a different building across the street on the 29th floor, 16 stories higher than where they currently are. This new location will be able to accommodate many more employees in the rapidly growing company.
FlightAware is the quintessence of professionalism mixed with passion for the aviation industry. There's something special about the company that makes it difficult to describe, as it is constantly looking for opportunities to soar to new heights.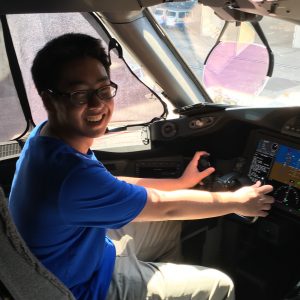 Ever since he made his first trip on a Boeing 747 in 2005, Samuel has been an AvGeek at heart. He is a dedicated United (ex-Continental) loyalist and frequent flier who attempts to live by Continental's slogan, "Work Hard, Fly Right." He has a huge love for the Boeing 777 along with any other Boeing wide body aircraft. Samuel is an avid collector of all types of airplane memorabilia ranging from model airplanes to in-flight magazines. In his free time, Samuel enjoys playing guitar and piano, and he is constantly on various airline websites scanning for any breaking news.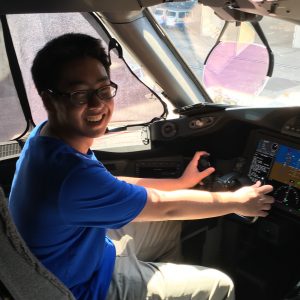 Latest posts by Samuel Chen (see all)