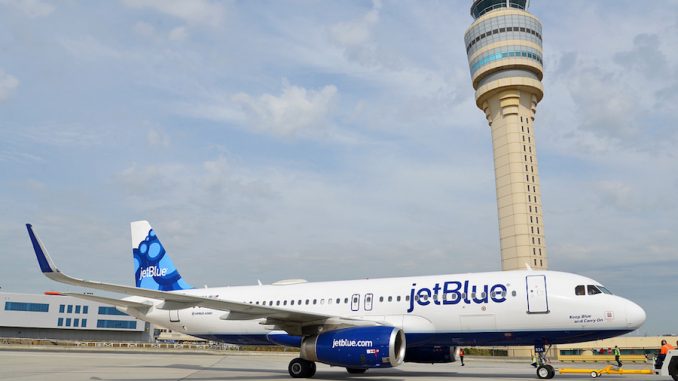 New York-based JetBlue is set to start three new routes from Atlanta beginning on March 8, 2018.
With service to New York – JFK, Fort Lauderdale, Florida, and Orlando, Florida, the new routes will double the the number of flights the carrier currently operates out of Atlanta. The new routes come just four months after JetBlue resumed service to Atlanta after a 13-year hiatus, launching five daily round-trip flights to Boston.
With Atlanta-based Delta Air Lines maintaining a home-field advantage in Atlanta, the new service will place the two airlines into a heated battle as JetBlue attempts to gain market share at Delta's fortress hub.
Aside from Atlanta, JetBlue and Delta have also faced off in other markets such as New York and Boston. Both airlines operate numerous non-stop routes between New York – JFK and Boston, with JetBlue adding service between New York – LaGuardia and Boston last year.
"Customers flying between Boston and Atlanta have shown a strong appetite for a competitive option like JetBlue, and we anticipate we'll see the same for the New York, Fort Lauderdale and Orlando routes." said Marty St. George, JetBlue's Executive Vice President of Commercial and Planning, in a press release.
JetBlue has been setting its sights on Atlanta for a while now, citing the lack of proper gate space as an issue. The situation even became heated at times, with the airline accusing the Hartsfield-Jackson International Airport for going back on a previous gate agreement. The airline and the airport eventually brought in the Federal Aviation Administration (FAA) to assist with settling the issue.
"There's no real gate space issue," said Reese McCranie, spokesman for Atlanta Hartsfield-Jackson International Airport, in a statement to The Atlanta Journal-Constitution. "We will have gates for all of their new flights."
Flights to New York – JFK and Fort Lauderdale will be twice daily, and flights to Orlando will be once daily. All flights will be operated on JetBlue's Airbus A320 aircraft.
An "AvGeek" for most of his life, Akhil has always been drawn to aviation. If there is an opportunity to read about an airline, fly on a new airplane, or talk to anyone about aviation, he is on it. Akhil has been on over 20 different kinds of aircraft, his favorite being the MD-80. Additionally, he has visited 5 continents and plans to knock out the remaining two (Africa and Antarctica) soon. Based in Dallas, Akhil graduated from Texas A&M University with a degree in Management Information Systems and currently works in consulting. His dream is to become an airline executive.
Latest posts by Akhil Dewan (see all)