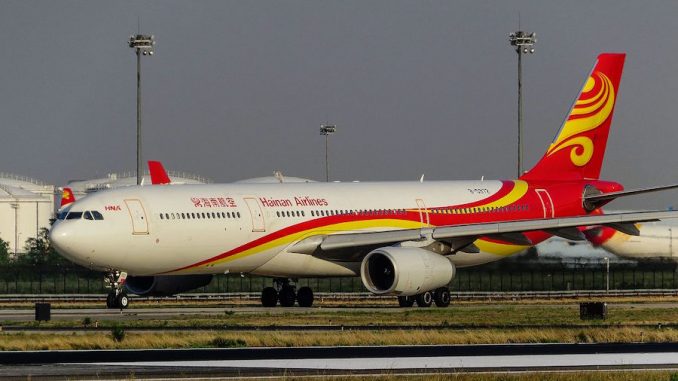 While aviation conglomerates tend to lack lavish cash spending that other businesses might have, the rise of the Chinese company HNA Group has certainly caught the eyes of many people. So where did this less than 25 year old company come from and how did it manage to obtain over 25 different brands and over $53 billion in assets? The answer is the island of Hainan.
The Making of a Conglomerate
HNA Group traces its roots back to 1993 with the creation of Hainan Airlines. The carrier was formed using two Boeing 737-300s and a deal with the Chinese island of Hainan to provide commercial service to the region. The original deal allowed the carrier to start operations, but also caught the attention of well-known investors, including Hungarian-American George Soros, who invested in the carrier early on.
The carrier was quick to experience success, and even started executive jet operations using Learjet 55s as well as taking a 25% stake in its hub airport in Haikou. However, the airline constantly feared being strangled by the government-backed trio of Air China, China Eastern and China Southern, leaving Hainan to make quick moves and acquire majority stakes in smaller carriers like China Xinhau Airlines, Chang An Airlines and Grand China Air.
With multiple brands in one corporation, the executives decided to distance themselves from Hainan Airlines and become HNA Group, with Hainan Airlines being a subsidiary of the company.
Further Capital Investment
As the years continued, the parent company looked for more Chinese brands to incorporate in to the HNA Group. The corporation would add over 25% investment stakes in Beijing Capital Airlines, Yangtze River Express, Hong Kong Airlines, Lucky Air, HK Express, Tianjin Airlines, West Air, Urumqi Air, GX Airlines and Fuzhou Airlines.
All of the carriers continue to operate separately, but most share similar liveries of red, white and yellow and have the same frequent flyer program, the Fortune Wings Club.
All while this was happening, Hainan continued to expand by itself, and made itself the golden boy of HNA. They phased out the Boeing 737-300s in favor of newer Boeing 737-700 and 737-800. Hainan expanded outside of Haikou with hubs forming in Beijing, X'ian and Changsha.
The airline announced in 2005 it would start intercontinental flying by ordering the Boeing 787-8 and Boeing 787-9 Dreamliners. While the 787s were ordered, the carrier started international flying using Airbus A330s and A340s. HNA Group also ordered Boeing 737-800s and Embraer ERJ-190s for its airline group, as the company attempted to unify the very scattered and ageing fleet.
Low-Cost Alliance
HNA Group made headlines in early 2016 when it announced that it would help form the world's first low-cost carrier alliance called the U-FLY Alliance. The airlines that HNA placed into the alliance started with Chinese carriers Lucky Air, Urumqi Air and West Air as well as their Hong Kong based brand, HK Express. HNA Group said that they were willing to welcome any other LCCs with the first being South Korea's Eastar Air joining in July 2016.
When the Boeing 787 Dreamliners started delivery in 2013 the airline made note that they didn't want the aircraft to compete head to head with the government backed airlines. Instead, Hainan Airlines looked for gaps in the Chinese international market, opting to fly from Beijing to Boston, Chicago and Las Vegas, as well as flying from Rome to Xi'an and Chongqing, and Los Angeles to Changsha, Chengdu and Chongquig.
While the airline has made great strides and Hainan is now the fourth largest carrier in China, the HNA Group isn't stopping there. The parent company has dealt out great amounts of money into international brands to create a conglomerate. HNA Group has taken over 20% stakes in Aigle Azur, Azul Brazilian Airlines as well as made smaller investments in carriers like Comair in South Africa, MyCargo Airlines, TAP Air Portugal and Virgin Australia.
Not Just Airlines
But the investments don't stop at airlines; HNA has made it known that it wants to own more than the carriers themselves. In 2016, the Hainan-based company purchased Avolon, an Irish aircraft leasing service, as well as took majority stakes in gategroup and Swissport.
The company has taken over a 25% stake in four hotel chains too, with the four being NH Hotels, Red Lion Hotels, Hilton Hotels and Carlson Hotels. HNA Group has made it known that it has no plans of stopping either, with their goal to be within the top ten of the Fortune 500 list within the next few years.
Outside of travel, HNA has entered other fields including technology, real estate and finance. The group made headlines in early 2017 when it announced plans to buy New York City's 245 Park Avenue for $2.2 billion, making it one of New York's most expensive property purchases.
Spending Catches the Eye of Financiers
However, the lavish spending by the HNA Group has caught the attention of many financiers. HNA Group is one of China's more successful companies and some of its biggest backers have become political figures in the Chinese government, while going out of their way to shield HNA Group from revealing where all the money has come from.
This has caused various banks in Europe, China and the Americas to consider freezing their transactions with HNA Group until it becomes more transparent on what is happening inside the company.
While the future of how far HNA Group can expand is falling into turbulence, its airline brands show no sign of slowing down. Hainan Airlines is schedule to start flying to Brisbane, Belgrade and New York-JFK before the end of the year, and Hong Kong Airlines is due to start flying to Los Angeles with the arrival of the Airbus A350.
The HNA airlines also have over 250 aircraft in their combined fleets, and over 50 aircraft on order to continue expansion. Hainan is also being touted to join the oneworld Alliance since the group of carriers lacks a Chinese brand. While you may not fly Hainan to your destination, odds are the HNA Group was or will be part of your traveling experience.
Although Ian McMurtry was never originally an avgeek, he did enjoy watching US Airways aircraft across western Pennsylvania in the early 2000s. He lived along the Pennsylvania Railroad and took a liking to trains but a change of scenery in the mid-2000s saw him shift more of an interest into aviation. He would eventually express this passion by taking flying lessons in mid-Missouri and joining AirlineGeeks in 2013. Now living in Wichita, Kansas, Ian is in college majoring in aerospace engineering and minoring in business administration at Wichita State University.
Latest posts by Ian McMurtry (see all)