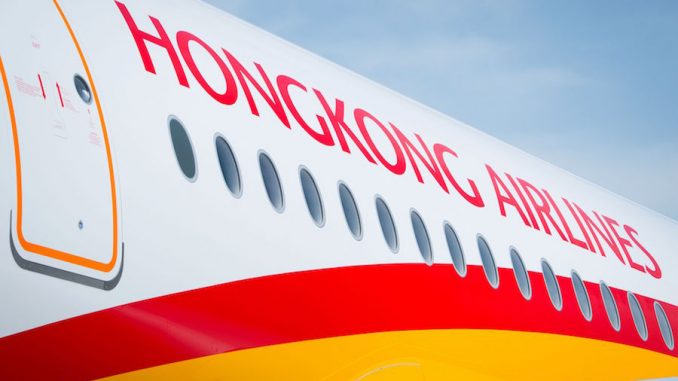 On Sept. 1, Hong Kong Airlines took delivery of their first Airbus A350-900XWB aircraft. The delivery is the first of four for the airline via AerCap Holdings, a leasing company. The airline is expecting a second A350 to be delivered in November of this year.
In a press release from AerCap, Zhang Kui, Co-Chairman of Hong Kong Airlines said, "AerCap is proud to deliver the first of four new A350 aircraft to Hong Kong Airlines. The aircraft will form the main pillar of Hong Kong Airlines' growth plans into the next decade, enabling the airline to provide a level of service and fly to markets that were not possible prior to today."
"We wish our friends and partners at Hong Kong Airlines every success as they continue to grow their business," Kui continued.
The aircraft's configuration consists of 334 seats between three classes. The airplane will feature 33 lie-flat business class seats, 108 economy comfort seats, and 193 standard economy seats.
Earlier in the year, Hong Kong Airlines announced plans for flights to Los Angeles on the new aircraft. The flights are planned to start on Dec. 18 on a four times weekly basis.
[PIC] Make way for 1st @Airbus to operate at LAX! @HK_Airlinesenters U.S. market w/ launch of LAX-Hong Kong service Dec. 18. #flyLAX pic.twitter.com/s4KDET5rHI

— LAX Airport (@flyLAXairport) August 25, 2017
In January, this is expected to up to a daily flight. Currently, the airline only serves one other destination in North America, Vancouver.
Although the airline flies to more than 30 destinations across their route network, the Los Angeles route looks like it could be their toughest route in terms of competition. The airline will face direct competition from oneworld partner airlines, American Airlines and Cathay Pacific.
"Following the success of the Vancouver route, we are excited to launch our first route in the continental United States and further expand our international network," George Liu, Hong Kong Airlines' Chief Marketing Officer, said in a statement.
"By strengthening the connection between North America and our Asia Pacific destinations, we can provide more options for American business, leisure, academic, and family travelers."
Outlook
Hong Kong Airlines will face significant competition on this route, from two very established carriers, with hubs at both ends of the route.
Cathay Pacific, also operating a hub out of Hong Kong is a well-established carrier, not only across Asia, but across the entire world. American Airlines, on the other hand, features a hub in Los Angeles and is the largest airline in the world.
One of the advantages that Hong Kong Airlines does possess on the route is that they are the only airline that will be operating the next generation Airbus A350.
Although many passengers will not care too much about the individual aircraft type operating the flight, if they can provide a great passenger experience on a brand new aircraft, the route has the potential to be profitable.
Jace has been working at AirlineGeeks for nearly three years. Born in Seattle, Boeing and aviation quickly took over his life and he never stopped looking up. Jace enjoys plane spotting and taking trips just so he can fly. He is currently studying at Embry-Riddle Aeronautical University while earning his Bachelors of Science in Air Traffic Management.
Latest posts by Jace Moseley (see all)