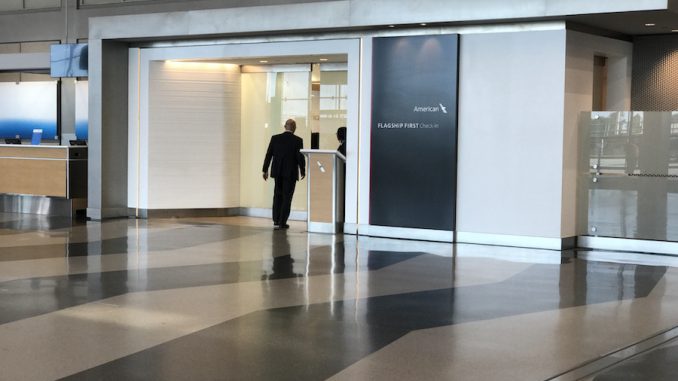 On Tuesday evening , American Airlines held an event celebrating the opening of their new Flagship Lounge at Chicago O'Hare (ORD). While the lounge doesn't open until 3:30 a.m. on Sept. 14, 2017, this event provided top-tier customers and media a chance to check out the new experience.
Flagship First Check-In
The experience started at the Flagship First Check-In area. The Flagship First Check-In at Chicago O'Hare opened next to TSA checkpoint 8, near priority check-in, in July 2013 and has been a great addition to the experience for premium passengers flying oneworld airlines out of Terminal 3. This includes American Airlines, Iberia, and Japan Airlines. All other oneworld airlines that fly out of ORD depart from Terminal 5.
Initially, when Flagship First Check-In opened, it was only open to international and transcontinental first class, ConciergeKey, and Five Star Service Customers. Recently, though, this policy changed, and now, in addition to the access methods stated above, AAdvantage Executive Platinum members can access it on qualifying international routes and oneworld Emerald members, who get their status from any other airline other than American, can access it on any American flight.
The Flagship First Check-In is a beautiful facility featuring three desks, usually manned by two agents, a few kiosks, and some chairs to sit in.
After checking in, passengers exit out a different door which spits you out to the front of the PreCheck or priority line, depending if you are enrolled in PreCheck. This cuts down the security process to only a few minutes.
Flagship Lounge
The new Flagship Lounge is located in the same area as the H/K Admirals Club. At the entrance of the Admirals Club / Flagship Lounge, there are four desks to check for admittance to the lounge. With new or renovated Flagship Lounges come new access rules.
Before, the Flagship Lounges were open to international and transcontinental first class passengers, ConciergeKey and AAdvantage Executive Platinum Members on qualifying international routes and oneworld Emerald members. Now, though, business class passengers on qualifying international routes, AAdvantage Platinum Members on qualifying international routes and oneworld Sapphire members also have access.
Dining and Buffet Area
The first area I explored was the dining and buffet area. This is the area that most differs from a standard Admirals Club so I was most excited to see it. The dining area featured two buffet tables with numerous options from smaller three or four bite options to larger hot options.
In addition to the buffet tables, there was a table with a chef serving Chicago Italian Roast Beef. I don't know if this was just for the special event, but it sure does give the lounge a Chicago flair. The dining area also had numerous seating areas including two person tables and single person seats. In addition to food, there was many drinks available.
Like many of the refurbished Admirals Clubs, the Flagship Lounge featured a Coca-Cola Freestyle machine with many options of sodas and other drinks. Unlike an Admirals Club, though, the Flagship Lounge also had some alcoholic drinks on the counter and some in the fridges. There were also cans and bottles of drinks in the fridges.
Noticeably absent was a staffed bar. If you want that, you will have to head up to the Admirals Club. Lastly, there was an area next to the dining area which wasn't a normal seating area, but wasn't exactly connected to the main dining area. I overheard that this area would be used if Flagship Dining ever came to the Flagship Lounge in Chicago.
TV Viewing Area
The television viewing area was on the opposite end from the dining portion and is a great addition. In my opinion, lounges are supposed to be a quiet retreat from the main terminal, so TVs usually defeat this purpose. This is why I love when lounges have dedicated TV viewing rooms. This room featured numerous chairs and two large television screens.
Shower Rooms
The Flagship Lounge features six individual shower rooms. Each of these rooms has a sink, toilet, and shower. The rooms were large enough and I believe they will be very useful to travelers in need of a quick rinse before their flight.
Main Seating Areas
Most of the lounge is taken up by the main seating areas. Including the normal seating areas, there was also a room to relax with comfortable, reclined chairs and also a quiet room. Many of the seats had a direct view of the ramp at Terminal 3.
One of the best parts about this lounge is the location. This and the Admirals Clubs have a fantastic view of the ramp area between Concourse H and Concourse K. Lastly, there were also mini snack areas positioned throughout the lounge with water, bottled drinks, and other amenities.
Final Thoughts
This lounge is definitely a step up from any Admirals Club and the older Flagship Lounges. On the other hand, I do think this lounge is inferior to the direct competitor, the United Polaris lounge, over in Terminal 1. Compared to the Polaris Lounge, this lounge lacks a bar and a sit-down dining menu. I fear this lounge will get very crowded with so many passengers having access to it. That said, I'm still excited for this lounge to open and can't wait to visit again.
This story was updated on September 13 at 8:00 p.m. ET to add additional images. 
Our guest authors are contributors to AirlineGeeks.com who like to write, but don't necessarily have the time to be a full-time writer. Want to be a guest writer? Contact
[email protected]
for more information.
Want to join the team full time? Look for more information at the very bottom of the website.
Latest posts by Guest Author (see all)