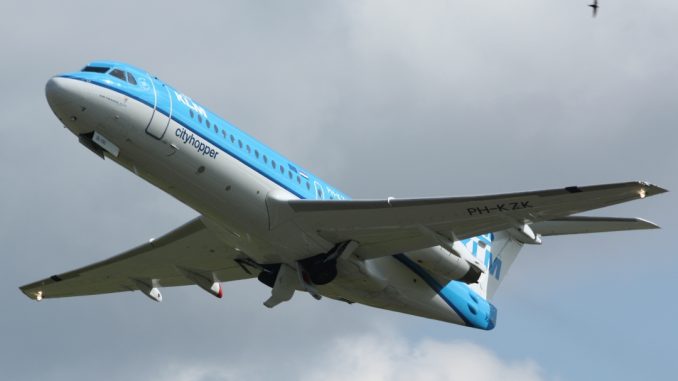 Following a 97 year partnership between KLM Royal Dutch Airlines, KLM Cityhopper and the aircraft manufacturer Fokker, the airline is now phasing out its Fokker 70 fleet in an effort to operate more modern aircraft. This phase out marks the end of a extraordinary period for the Dutch airline industry, with the final flights set to occur on October 28.
The first flight of a Fokker aircraft was on May 17, 1920, where it was the first passenger aircraft owned by KLM. The airline had two in its fleet, marked H-NABC and H-NABD. The first commercial flight for the aircraft was to London on Sept. 15, 1920.
The final arrival of the aircraft in Amsterdam from London in October will complete the circle on the final sector flights.
KLM has announced the final destinations of the final flights for the Fokker 70, with airports including Dusseldorf (DUS), Norwich (NWI), Hanover (HAJ), Brussels (BRU), Luxembourg (LUX) and London Heathrow (LHR).
Those that are interested can book these final flights on the airline's website, but there will likely be limited seats available. KLM will also offer social media coverage of its flights for those who cannot book travel on the remaining flights.
As part of the fleet moderation for KLM and KLM Cityhopper, the airline will replace the Fokker aircraft with more modern E-Jet 190 and Embraer 170 aircraft. The updated fleet will facilitate future expansion of the current network, offer more flight frequencies, and ultimately lower costs for the airline.
Adam has been an avgeek for all his life. When he's not traveing, he's photographing different aircraft, video blogging his travels and watching ice hockey with the LA Kings being his favorite team.
Latest posts by Adam Fowler (see all)