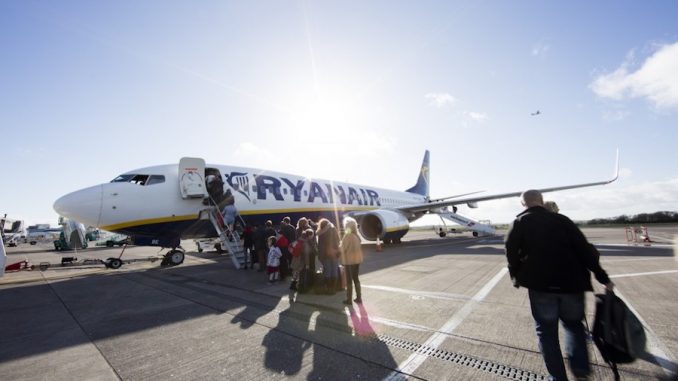 Ireland-based Ryanair has announced an expansion plan for their operations in Frankfurt, Germany next summer.
Ryanair is a relative newcomer to the larger Frankfurt Main Airport, having previously operated its flights out of the smaller and more distant Frankfurt Hahn Airport. At Frankfurt Hahn, the airline will add a route to Plovdiv, Bulgaria while increasing frequency on some of the airline's 42 other routes operated out of the airport.
For the expansion at Frankfurt Main, the airline will be adding 34 new routes on top of the four routes it already operates out of the airport.
With the new route additions, Ryanair will begin service from Frankfurt Main to the following destinations: Athens, Corfu, Chania, Kefalonia, Mykonos, Santorini, Barcelona, Girona, Gran Canaria, Lanzarote, Madrid, Murcia, Seville, Tenerife, Valencia, Bergamo, Brindisi, Catania, Perugia, Pisa, and Venice.
The airline will also fly to Glasgow, London-Stansted, Manchester, Marseille, Perpignan, Toulouse, Pula, Rijeka, Zadar, Lisbon Porto, Krakow, and Agadir.
In order to accommodate the expansion of routes from Frankfurt Main, Ryanair is planning to boost the number of Boeing 737s it has stationed there from seven to 10. The airline also has five aircraft based at Frankfurt Hahn.
In a statement from Ryanair, Chief Commercial Officer David O'Brien said, "We are pleased to announce an additional three based aircraft at Frankfurt Main to bring it to a total of 10 and an investment of $1 billion."
An "AvGeek" for most of his life, Akhil has always been drawn to aviation. If there is an opportunity to read about an airline, fly on a new airplane, or talk to anyone about aviation, he is on it. Akhil has been on over 20 different kinds of aircraft, his favorite being the MD-80. Additionally, he has visited 5 continents and plans to knock out the remaining two (Africa and Antarctica) soon. Based in Dallas, Akhil graduated from Texas A&M University with a degree in Management Information Systems and currently works in consulting. His dream is to become an airline executive.
Latest posts by Akhil Dewan (see all)