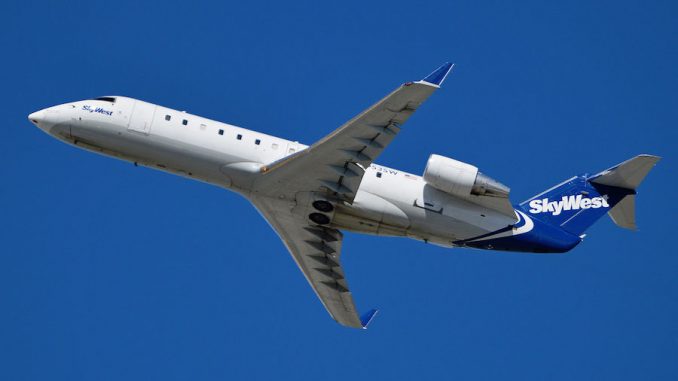 The Kearney, Neb. City Council has unanimously voted SkyWest Airlines has the next carrier for Kearney.
City council members voted 5-0 for SkyWest, the winner out of seven bids from other regional carriers. The council will send a recommendation for a two-year contract to the U.S. Department of Transportation.
17 proposals came in from Air Choice One, Boutique Air, Great Lakes, Key Lime Air, Silver Air, ADI, and United Express. The proposals included nine seat props to fifty passenger regional jets that would serve either Denver or Omaha.
"We looked at some key things. … One is co-chair with United Airlines. We feel in the long run regional jet service should be our vision and has been for a long time," said Kearney mayor Stan Clouse.
The small Nebraska town approved Peninsula Airways just 10 months ago but had to quickly find a new carrier after PenAir filed for Chapter 11 bankruptcy in August. The Alaska-based carrier was chosen for a two-year contract in November to take over for Great Lakes Airlines, an airline that struggled in the Kearney market.
PenAir has seen great success in Kearney reporting over 540 passengers in November, the most the airport has seen in 27 months. The regional carrier flies a Saab 340 twin turbo on the hour long route.
PenAir gave no notice to Kearney airport officials of their bankruptcy and that they would end commercial service in 90 days.
SkyWest and the Kearney airport have not yet made any announcements regarding the airline change.
Matthew Garcia became interested in aviation at the age of 12 when he installed Microsoft Flight Simulator X on his computer. He was instantly "bitten by the bug" and has been in love with aviation ever since. Matthew took his first introductory flight in 2013 and began normal flight training in February of 2015. Over the years, Matthew's love and knowledge for aviation has grown tremendously, mainly due to FSX. Garcia flies highly advanced aircraft in a professional manner on a highly complex virtual air traffic network simulating real world flying. In 2016 Matthew achieved his private pilot certificate from the FAA. Now he studies journalism at the University of Nebraska at Omaha.
Latest posts by Matthew Garcia (see all)