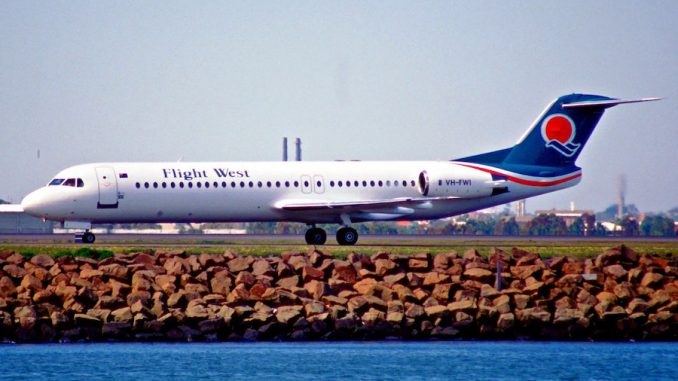 Founded in May 1987, Australian carrier Flight West Airlines took to the skies above Brisbane to begin their impact on a variety of small cities across the country. The airline lasted a brief 14 years before succumbing to a complicated struggle to survive.
An appropriate reflection of their slogan "jetting into a new territory," Flight West served numerous remote destinations by implementing Queensland Government contracts, in addition to coastal cities, islands, and more significant cities in western Queensland.
Their 34 destinations included Blackwater, Longreach, Cairns, Julia Creek, Cooktown, Norfolk Island, Normanton, Windorah, Bamago, Richmond, Sydney, Charleville, Lockhart River, Bedourie, Townsville, Rockhampton, Winton, Doomadgee, Edward River, Hervey Bay, and their hub in Brisbane, among others.
Initially, the carrier launched services using the Beechcraft Super King Air aircraft. Shortly afterwards, DHC-6 Twin Otters, Embraer EMB 110s, and EMB 120s were added to the fleet. Towards the end of their history, Flight West operated 16 total aircraft, which broke down to include the Jetstream 32ER, Embraer 120ER Brasilia, Fokker 100, and Fokker F28-4000.
In June 2001, Flight West entered into voluntary liquidation, in which accounting agency PricewaterhouseCoopers was appointed to manage the airline. Within two weeks, Ansett Australia, which was affiliated with the carrier, announced that it would lease eight of Flight West's aircraft and restart 16 routes. Unfortunately, three months later, Ansett collapsed again, causing Flight West's services to stop once again.
On Nov. 6, 2001, the Australian government decided to underwrite operating costs for three months in another attempt to keep the airline afloat. However, on Dec. 4, Flight West went into Voluntary Administration.
The airline's last downfall came on April 16, 2002, when Queensland Aviation Holdings purchased the carrier with the intention to restructure it entirely as Alliance Airlines, effectively bringing the airline to an end.
Ashley is currently a senior in high school and plans on pursuing a career in aviation or journalism. Her favorite airplanes include the Boeing 777, 737MAX, and Airbus A350. She enjoys taking flights on various airlines to different airports and planespotting at her local airports.
Latest posts by Ashley Magoon (see all)