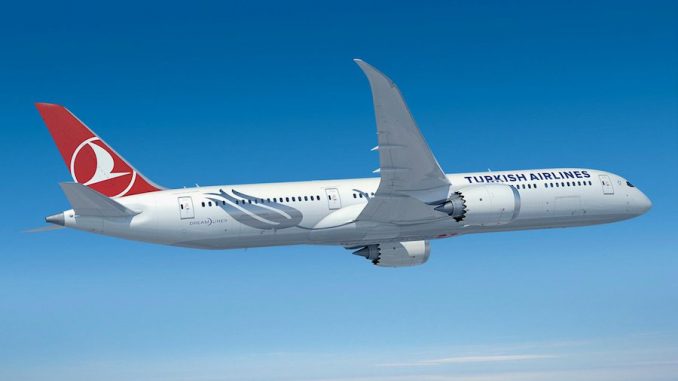 Boeing and Turkish Airlines have jointly announced an order for 40 787-9 Dreamliners. The new order has a bill totaled at nearly $11 billion.
"The 787 Dreamliner is the most technologically advanced airplane in the world. Our intent to purchase these Dreamliners is to meet the demand for wide-body airplanes at the 3rd Airport, further strengthen our fleet capacity on the 100th anniversary of the Republic and to enhance passenger satisfaction," said Turkish Airlines chairman of the board and the executive committee M. IIker Ayci.
"Turkish Airlines is a great partner, and we value their confidence in us and the 787 Dreamliner," said Boeing CEO Kevin McAllister.
Boeing, alongside with the Turkish government, also made an announcement for the Boeing Turkey National Aerospace Initiative, a program designed to support growth in the Turkish aerospace industry. The program will also strengthen Boeing's market presence.
Boeing recently increased the production rate of the Dreamliner fleet. The South Carolina plant is set to produce 14 airframes a month starting in 2019. Once the Turkish order is calculated in, the Dreamliner will sit at roughly 119 orders for 2017, falling second to the 737 series with 300 orders.
AerCap, Air Lease Corporation, Arik Air, BOC Aviation, EL AL Israel Airlines, and WestJet are among the current 787 orders.
Turkish has not revealed what routes the widebody aircraft will operate.
Matthew Garcia became interested in aviation at the age of 12 when he installed Microsoft Flight Simulator X on his computer. He was instantly "bitten by the bug" and has been in love with aviation ever since. Matthew took his first introductory flight in 2013 and began normal flight training in February of 2015. Over the years, Matthew's love and knowledge for aviation has grown tremendously, mainly due to FSX. Garcia flies highly advanced aircraft in a professional manner on a highly complex virtual air traffic network simulating real world flying. In 2016 Matthew achieved his private pilot certificate from the FAA. Now he studies journalism at the University of Nebraska at Omaha.
Latest posts by Matthew Garcia (see all)