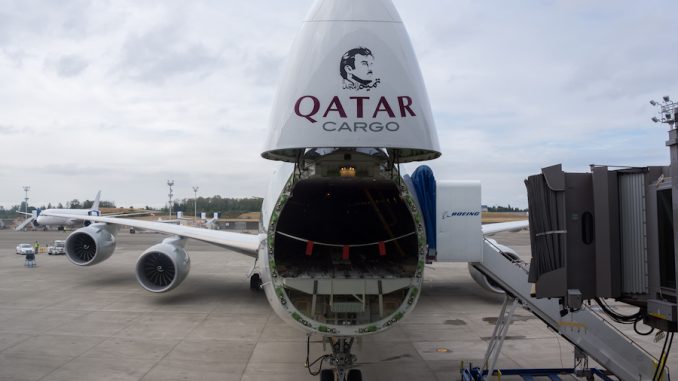 At the Boeing Everett Delivery Center on Monday, Qatar Airways received its first of two Boeing 747-8F freighter aircraft. The delivery ceremony was attended by Qatar Airways Group Chief Executive His Excellency Mr. Akbar Al Baker, Boeing Commercial Airplanes President and CEO Kevin McAllister, and Vice Chairman of the Boeing Company Ray Conner.
His Excellency Mr. Al Baker also announced the order of two Boeing 747-8Fs, including the one delivering to Qatar Airways today, and four 777-300ERs,valued at $2.16 billion in list prices. The two cargo planes were previously unidentified on Boeing's Orders and Deliveries website.
"The addition of our very first 747-8 Freighter is a significant moment for our Cargo division, and a welcome addition to our 20-strong cargo fleet of wide-body aircraft." said His Excellency Mr. Al Baker.
While maintaining the unique nose door of the Boeing 747 freighter family, the 747-8F variant provides greater revenue cargo-carrying capability and 16 percent more cargo volume while maintaining the best environmental performance and lowest operating cost of any large freight airplane.
His Excellency Mr. Al Baker also said that the Boeing 777 aircraft has been an important backbone of the airline's long haul fleet. With the Open Skies Agreement, Qatar Airways plans to start a Las Vegas and San Francisco route in the near future utilizing the Boeing 777 fleet.
Qatar Airways currently operates over 100 Boeing widebody aircrafts. Being the first to operate Boeing 787 Dreamliner in the Middle East, the carrier continues to reflect its confidence in Boeing to deliver an outstanding product. To date, Qatar Airways has more than 100 Boeing airplanes on order, including 20 of the new Boeing 737 MAXs.
Shop Amazon Devices – All-New Fire HD 10
AirlineGeeks.com began in February, 2013 as a one-man (er… teenager, rather) show. Since then, we've grown to have 20 active team members, and yes, we're still growing. Some of us are looking to work in the aviation industry as professionals when we grow older. Some of us are still trying to decide what we want to do. That's okay though, because we're all here for the same reason: we love the airlines. We're the youngest team of airline industry journalists out there.
Latest posts by AirlineGeeks.com Staff (see all)