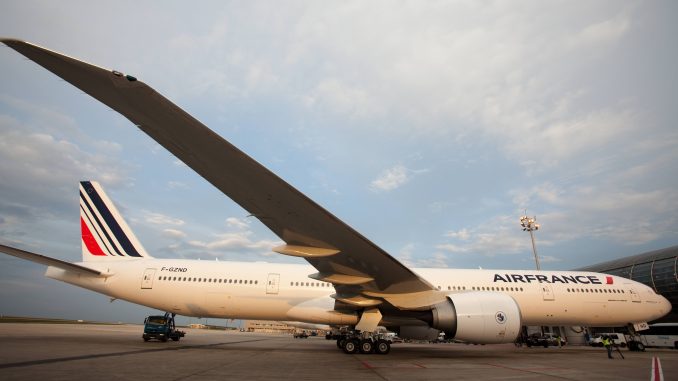 Paris-based Air France and Hanoi-based Vietnam Airlines have announced their intention to begin a joint venture for flights between the Vietnamese cities of Hanoi and Ho Chi Minh City and Paris.
The two airlines, both members of the SkyTeam alliance, have stated that the arrangement will take place November 1 and they hope that it will allow for more connections between Europe and Vietnam.
The two airlines have been building codeshares and coordinating their flight schedules since 2010. As part of the arrangement, Air France will place its code on the 20 Vietnam Airlines flights to other Vietnamese cities, as well as to the Cambodian cities of Phnom Penh and Siem Reap.
Vietnam Airlines will, in turn, put its code on 30 Air France flights to destinations in France and Europe.
Currently, Vietnam Airlines and Air France are the only two airlines who operate direct service between the two countries, with thrice-weekly flights from Ho Chi Minh City to Paris on Air France's Boeing 777-300ERs and Vietnam Airlines' Airbus A350-900s.
Vietnam Airlines also maintains a six-times-weekly flight between Hanoi and Paris on its Airbus A350s and is the only airline to operate that route.
Parent company Air France-KLM has been seeking ways to boost its long-haul market for some time now, mainly to compete with Gulf carriers like Etihad and Emirates.
The airline has launched a new budget carrier, Joon, and has revamped their alliances with Delta and Virgin Atlantic.
"There is still pressure on prices on routes heading east," said Franck Terner, Chief Executive Officer of Air France. "The joint venture with Vietnam Airlines will help us to strengthen our position and better mitigate this pressure on prices."
The airline has also announced that it is planning to work more closely with Indian carrier Jet Airways, with whom they have maintained a codesharing arrangement with since 2016.
Air France isn't the first major international carrier to create a joint venture with a large, Asian airline.
After a rocky start, Delta Air Lines and Korean Air announced a joint venture last year. United Airlines has maintained a codesharing agreement with All Nippon Airways for some time now and just last week, Lufthansa and Singapore Airlines officially launched their joint venture agreement to increase connections between Singapore and Europe.
An "AvGeek" for most of his life, Akhil has always been drawn to aviation. If there is an opportunity to read about an airline, fly on a new airplane, or talk to anyone about aviation, he is on it. Akhil has been on over 20 different kinds of aircraft, his favorite being the MD-80. Additionally, he has visited 5 continents and plans to knock out the remaining two (Africa and Antarctica) soon. Based in Dallas, Akhil graduated from Texas A&M University with a degree in Management Information Systems and currently works in consulting. His dream is to become an airline executive.
Latest posts by Akhil Dewan (see all)