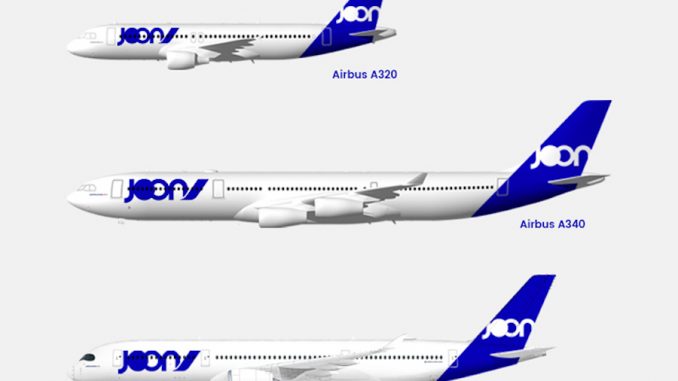 On Sept. 25, Air France provided more details on Joon, its new airline targeting millennial customers. Set to launch Dec. 1, Joon is being sold as a new, hip airline for the next generation of travelers. Joon will be based at Air France's main hub, Paris-Charles de Gualle International Airport (CDG), and will serve multiple vacation destinations in Europe and eventually overseas.
According to Air France, Joon pilots and cabin crew will be Air France pilots and flight attendants, albeit specially selected for the new job, and will be utilizing a mix of Airbus A320, A321, A340, and A350 aircraft. In December, flights are expected to begin serving Lisbon and Porto, Portugal, Barcelona, Spain and Berlin. In 2018, the airline plans to start operations to Fortaleza, Brazil and Mahe, Seychelles.
With fares starting at 39 euros one way for flights within Europe and 249 euros for overseas flights, the airline looks to be attempting to compete with more of the holiday-goer based airlines such as Monarch and Thompson.
On-board Services
However, Air France is marketing Joon as more than just an airline. According to a press release from the airline "Joon is a fashion brand, a rooftop bar, an entertainment channel, a personal assistant … and Joon does the flying too!" While this may seem enticing at first, further details highlight that these are simply metaphors for commonly provided service.
When listed as a rooftop bar, the airline is implying that there are food and beverages offered on Joon flights. While catering is free in Business class, it has become an added option that can be paid for in Economy class. Free drinks for all customers will include water, orange juice, coffee, and tea. On top of catering and beverages, there will be a buy-on-board option for passengers, with options ranging from special cold drinks to select appetizers.
Joon's in-flight entertainment, YouJoon, will "enable customers to access in-flight streaming, on their own smartphone, tablet or laptop." Options will include a wide range of entertainment from TV shows to children's programs. All seats will also be equipped with USB port to allow in-flight charging of electronic devices.
Joon's uniforms for flight attendants also fall under the young, hip style that the airline seems to be aiming for. The uniforms, designed from recycled fabrics made from plastic bottles, include slimline pants and sneakers. The company claims, "With its chic sportswear look the uniform…reflects the spirit of the company."
Mixed Outlook
While it is very obvious that Joon is being marketed to a younger consumer base, the new airline has received mixed support as analysts are struggling to understand both the airline's marketing and the lack of a significant cost advantage for operations.
For now, Joon will be utilizing Air France pilots, meaning that it will have few cost advantages compared to low-cost airlines such as Ryanair and Easyjet.  This was likely done as part of negotiations with its pilot unions. While the airline states that it will initially be bringing flight attendants over from Air France, early reports have shown that it will be able to hire flight attendants separate from its parent airline in the future.
For the airline's brand, it remains to be seen whether millennial-focused marketing is able to properly target customers that are looking to travel. Hotel brands such as Marriott and Hilton have each launched their own millennial-targeted experiences, but it remains to be seen whether customers are able to get on board, or if a broader marketing plan is more viable.
Jace has been working at AirlineGeeks for nearly three years. Born in Seattle, Boeing and aviation quickly took over his life and he never stopped looking up. Jace enjoys plane spotting and taking trips just so he can fly. He is currently studying at Embry-Riddle Aeronautical University while earning his Bachelors of Science in Air Traffic Management.
Latest posts by Jace Moseley (see all)