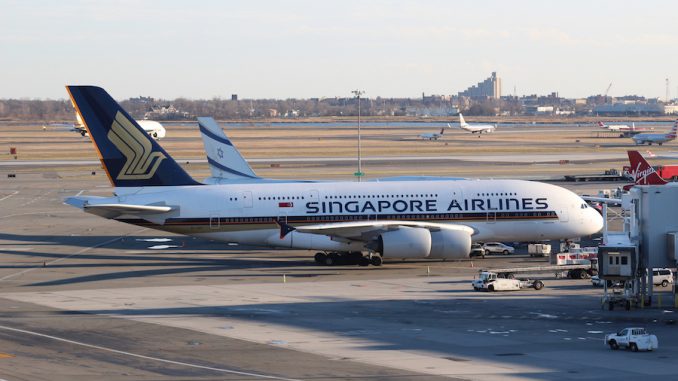 As reported earlier this summer, the first Singapore Airlines Airbus A380 will be returned to leasing firm Dr. Peters next week, signaling uncertainty about the future of the A380 and the market for these used, superjumbo aircraft.
This jet, along with several other A380s that Singapore Airlines will be returning have two options; they will either be leased out to a new operator, or be sold for parts.
This particular aircraft has been in service for just 10 years, first flying between Singapore and Sydney in October 2007, with its final flight taking place this past June. This gives the airline several months to refurbish the aircraft to return to the lessor in "like new" condition. The airline must refurbish the interiors, engines, and other parts of the aircraft, or face a penalty of $25 million per plane.
An Undefined Amount of Time in Storage
Once the plane has been refurbished it will be flown to Tarbes-Lourdes-Pyreenees airport, a popular location for storing aircraft, 75 miles away from Airbus' headquarters in Toulouse, France. Upon arrival the engines will be removed and returned Rolls-Royce, while the rest of the aircraft will wait.
How long the aircraft will wait there is yet to be determined. Given the struggle of Airbus to sell new A380s, there is no doubt that aircraft leasing companies will have an equal struggle leasing out their second-hand A380s.
Dr. Peters remains optimistic that it will soon find a new operator for the aircraft and the three more Singapore A380s that it will be getting back soon. The leasing company says that it is in talks with six potential operators of the jets, including an Asian low-cost airline that would fly the aircraft in a high density, single class configuration, as well carriers in the U.S. and Europe.
A European airline picking up an A380 is considerably more likely than a U.S. airline acquiring one, as Delta Air Lines, American Airlines, and United Airlines have all expressed their disinterest in the French superjumbo. At first glance, the only potential U.S. airline to acquire an A380 by a longshot is Hawaiian Airlines.
Rumors of Hawaiian Airlines Acquiring an A380
Earlier in September, rumors began circulating that Hawaiian Airlines was considering the A380 on routes such as those from Honolulu to Los Angles or Tokyo where the airline already offers multiple frequencies on wide-body aircraft.
It seems unlikely that this will happen however, as having multiple frequencies of smaller aircraft allow better scheduling and options for customers. Condensing two frequencies on smaller wide-body aircraft onto a single A380 frequency ruins the flexibility provided through multiple frequencies.
Furthermore, given the aircraft that Hawaiian already has on order, the Airbus A321neo and Airbus A330neo, it is unlikely that the airline would make the jump to such a large aircraft.
Selling for Parts
If no airline wants to take the aircraft, there is one option left: breaking up the aircraft and selling it for parts.
The engines that are being returned to Rolls Royce will be put onto other A380s whose own engines are removed for maintenance, while the rest of the aircraft can be taken apart for parts. All together, the parts and the engines would be worth at least $100 million per plane.
Beginning of the End
Regardless of the outcome of these aircraft, what is known for sure is that the future of the A380 is bleak. Airbus has not sold an A380 since March 2015. Even if Emirates purchases the rumored 20 to 30 A380s at the Dubai Airshow next week, it will only slightly postpone the end of A380 production.
With retirements of the Boeing 747 left and right and sluggish sales of the A380, the era of commercial four engine aircraft is slowly coming to an end. One saving grace for the B747 will be its ability to function as a freighter. The B747 is expected to grace the skies many years into the future as a cargo aircraft, but the same likely cannot be said for the A380.

Hemal took his first flight at four years old and has been an avgeek since then. When he isn't working as an analyst he's frequently found outside watching planes fly overhead or flying in them. His favorite plane is the 747-8i which Lufthansa thankfully flies to EWR allowing for some great spotting. He firmly believes that the best way to fly between JFK and BOS is via DFW and is always willing to go for that extra elite qualifying mile.

Latest posts by Hemal Gosai (see all)