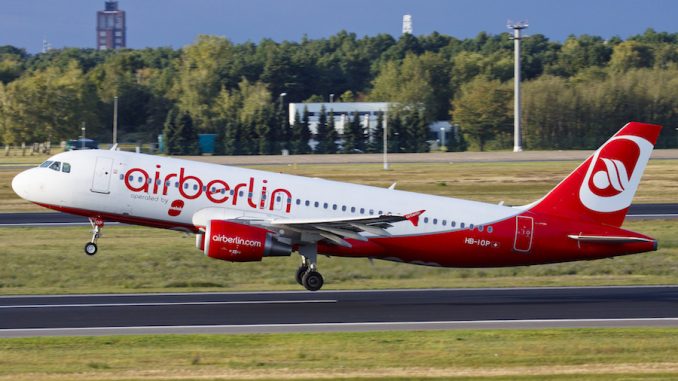 An Air Berlin Airbus A320 sits on the tarmac at Keflavik Airport in Iceland unable to depart. After filing for bankruptcy protection and ceasing operations in late October, Keflavik's airport management had grounded the airplane following a battle over unpaid airport dues by the faltering airline. After months of negotiations, the aircraft was finally allowed to leave the island in November.
The airport operator, Isavia, confirmed that the aircraft with the registration D-ABDX had been allowed to leave. The airport's spokesperson Guðni Sigurðsson explained that while the airplane remained at the airport, "…it can be picked up anytime." Air Berlin finally repatriated the aircraft to Germany, flying it to Berlin-Schoenefeld (SXF) on November 1, where it now sits alongside dozens of other unused Air Berlin aircraft.
The airline had ceased operations on October 25 after years of losses and management difficulties. The numerous aircraft parked at SXF, however, belong to a number of leasing companies. The majority of them will be integrated into Lufthansa's Eurowings fleet in the coming months, as the German flag carrier completes its purchase of parts of Air Berlin. Others will go to EasyJet, who will use them for their short-haul operations.
Back in Iceland, Isavia claimed that Air Berlin owed fees preceding its bankruptcy that had to be paid,  regardless of the bankruptcy proceedings against Air Berlin. It then decided to take the A320 as collateral while awaiting payment of the outstanding fees.
Meanwhile, the bankrupt airline demanded that Isavia add its case to the list of creditor claims under the bankruptcy proceedings, rather than footing the bill immediately and outside of the liquidations framework. Typically, when a company files for bankruptcy protection, their debts are eliminated and dealt with by a bankruptcy court. However, Keflavik Airport did not want to wait to receive its unpaid dues.
Fortunately, passengers were not stuck with the aircraft and forced into an extended stay on the island as the aircraft was. Air Berlin was able to get a replacement aircraft to Iceland to pick up the passengers that had been on the grounded airplane.
The case illustrates how Air Berlin's bankruptcy continues to have an adverse effect across Europe, even after ceasing all operations.
Adrian joined AirlineGeeks as a writer in 2017. He had always wanted to become a pilot and while he chose a different career path for now, his interest in aviation continues to grow every day. Adrian was fortunate to travel extensively for business in the past five years. As a result, he focuses his research and writing on passenger services and experiences on a variety of airlines. His favorite aircraft include the Airbus A350, A380, and the Embraer passenger jets.
Latest posts by Adrian Vannahme (see all)