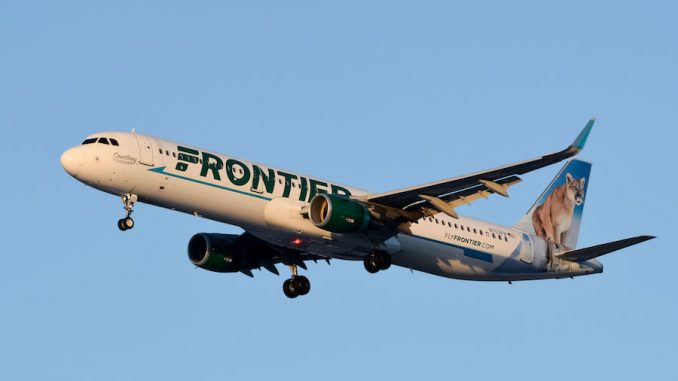 On Wednesday, aircraft manufacturing giant Airbus announced that it had confirmed the largest order in the company's history. Indigo Partners, a U.S.-based private equity firm, signed a deal with Airbus worth $49.5 billion for an order of 430 Airbus A320neo and A321neo aircraft. Denver-based Frontier Airlines, a subsidiary of Indigo Partners, plans on receiving 100 of the A320neos and 34 of the A321neos by 2026.
A Difficult History
Frontier Airlines, an ultra-low-cost carrier (ULCC), has been charging ahead with an aggressive expansion plan over the past few years, attempting to put its financially-troubled past behind them. Once a full-service carrier, Frontier had a vast network out of its Denver, Colo. hub, with flights throughout the U.S., Mexico, and Canada.
However, a challenging market and changes in credit card processing rules through its vendor, First Data, resulted in the airline facing a sudden cash crunch, forcing it to file for Chapter 11 bankruptcy protection.
After receiving approval from U.S. bankruptcy court in 2009, Frontier was acquired by Indianapolis-based holding company, Republic Airways. Under Republic, Frontier saw most of its operations move from the Denver hub to Indianapolis, while also seeing the introduction of the Embraer 170/175/190 type aircraft to its fleet.
Not stopping at Frontier, Republic Airways also went on to acquire Milwaukee-based Midwest Airlines. After the acquisition, Frontier was soon merged with Midwest, leading to an increase of Frontier's operations out of Milwaukee.
In 2011, citing financial issues again, Frontier saw the downsizing of its Milwaukee base. Later in 2011, Republic Airways decided to shift Frontier's operating structure, changing its business model from a full-service airline to a ULCC, similar to that of Las Vegas-based Allegiant Airlines and Fort Lauderdale-based Spirit Airlines business models.
Targeting Smaller Airports
After this spin-off, Frontier began to ramp up operations in Trenton, N.J. and Wilmington, Del., basing aircraft and crew at those airports. With Trenton and Wilmington being so close to the metropolitan cities of Philadelphia and New York, they could attract travelers from both cities while also keeping costs low.
This approach was similar to that of Allegiant and Southwest Airlines, where the airline would fly out of smaller cities and airports due to less expensive real estate, combined with easier access for flyers from smaller towns but not too far away from big cities.
However, this approach was short-lived for Frontier, as it began to downsize the operations in Wilmington and Trenton in 2015 due to lack of profitability. Going against its original approach, the airline then shifted its operations to Philadelphia, while also maintaining flights and a crew base in Trenton.
A Push Toward Leisure Travel
Later in 2015, the airline truly started to see success with its new business model. With that success came a rapid expansion of new aircraft, employees, and routes. That year, Frontier added Atlanta, Chicago, Cincinnati, Ohio, Cleveland, Ohio, Orlando, and Philadelphia as focus cities. The airline also ramped up its operations in Denver, Buffalo, and numerous cities in Florida, such as Miami and Fort Myers.
In July 2017, Frontier announced a massive route expansion, with 85 routes out of 21 cities. The announcement marked the largest route announcement for the airline to date. By Summer 2018, the airline will be operating a total of 314 daily nonstop flights.
Frontier is also aiming to have the youngest fleet in the industry, operating an all-Airbus fleet consisting of A319s, A320s and A321s. The airline has also converted 18 of its A319neo orders to A320neos, adding to the 67 A320neos they already had on order.
With the recent fleet and route expansions that Frontier has been introducing, it seems that they are not only targeting ULCC carriers like Allegiant and Spirit, but also targeting legacy carriers such as Southwest, Delta, and United.
Competing with Full Service Carriers
By expanding its operations into Chicago-O'Hare instead of Chicago-Midway, where most low-cost carriers fly due to cheaper costs, Frontier is set up to directly compete with United's Basic Economy product. Both of which offer similar caveats such as carry-on restrictions, additional fees for seat selection and smaller seat pitch.
Additionally, by using Chicago-O'Hare as a focus airport, Frontier has been targeting some of the higher volume destinations that United also services, such as Denver, Los Angeles, and Long Island. Frontier has doubled down on Chicago, announcing that it will be starting seasonal service from O'Hare to San Francisco and Washington-Dulles, two of United's hubs, beginning in April 2018.
When it comes to competing with Southwest in Florida, Frontier has strategically positioned Orlando as a focus city. Frontier has the second-most destinations out of Orlando, after Southwest. From Orlando, Frontier has started service to cities such as Buffalo, Long Island, Chicago, Nashville, Tenn., and Denver, all of which are also serviced by Southwest.
However, one factor that may give Southwest a leg-up is its customer service. With Frontier having the second-most customer complaints after Spirit Airlines, many passengers may sacrifice a lower cost for a better flying experience. Southwest also provides a two free checked bags for each ticket, something Frontier charges heavily for.
Competing with ULCCs
Lastly, in terms of destinations, fares and class of service, it seems as if Frontier is in direct competition with the two other major U.S. ULCCs, Allegiant and Spirit. While Allegiant's fleet may be slightly larger, the new Airbus order for Frontier will help to push the airline a little farther. It is worth noting that Allegiant currently has orders for 38 A319-100 and A320-200 aircraft to replace its aging McDonnell Douglas MD-80 series fleet.
Also, for the most part, it seems as if Allegiant and Frontier seem to cater to different markets of passengers. Allegiant is still sticking to its business model of primarily smaller cities and airports in the western United States, like McAllen, Texas and Minot, N.D., while Frontier has retreated to major airports in some cities.
An observer would say Frontier is neck and neck with Spirit in terms of competition. Both airlines operate an all-Airbus fleet, with Spirit awaiting delivery of 63 A320neo, A320-200, and A321-200 aircraft, and both airlines have shifted operations from Chicago-Midway to Chicago-O'Hare. The switch in Chicago allows them to directly compete with Spirit on destinations such as Las Vegas, New York, and Orlando.
Only time will tell if Frontier can soon become the dominant ULCC in the U.S. After its recent expansion announcements, it seems that Frontier is undaunted by the challenge and is not ready to give up this time around.
An "AvGeek" for most of his life, Akhil has always been drawn to aviation. If there is an opportunity to read about an airline, fly on a new airplane, or talk to anyone about aviation, he is on it. Akhil has been on over 20 different kinds of aircraft, his favorite being the MD-80. Additionally, he has visited 5 continents and plans to knock out the remaining two (Africa and Antarctica) soon. Based in Dallas, Akhil graduated from Texas A&M University with a degree in Management Information Systems and currently works in consulting. His dream is to become an airline executive.
Latest posts by Akhil Dewan (see all)