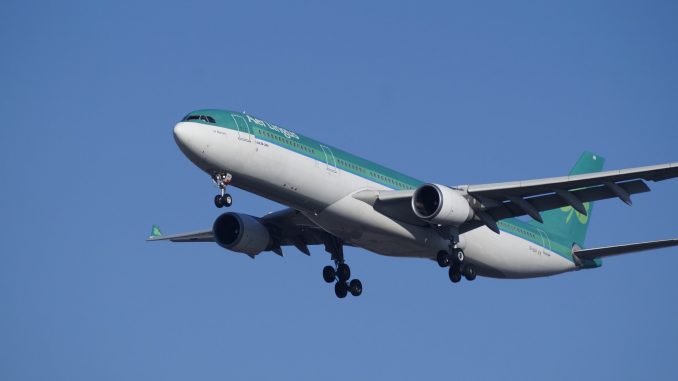 On Friday, Aer Lingus announced the newest addition to its United States route network, Seattle. The new route will connect the Irish capital city of Dublin and Seattle, becoming Aer Lingus' 11th destination in the United States. The Irish airline has dubbed the route "#SeemlesstoSeattle," a play on the 1993 movie Sleepless in Seattle featuring Tom Hanks and Meg Ryan.
The flight will be operated four times weekly on Monday, Wednesday, Friday, and Sundays. Flight 99 is scheduled to depart Dublin at 3:50 p.m. local time and arrive in Seattle at 5:35 p.m. local time. Flight 98 departs Seattle at 7:20 p.m. local time and arrives in Dublin at 12:35 p.m. local time, the following day.
The new route will launch on May 18, 2018, on the airline's long-range Airbus A330-200 aircraft. The aircraft features a two-class layout, totaling 266 seats with 23 business class seats and 243 seats in the economy cabin.
Port of Seattle Commission President Tom Albro, said, "Both cities are well-known for their booming tech industries with Washington State-based companies making significant investments in Dublin, while at the same time this route will provide additional choices for our region's travelers."
This flight marks Seattle's only regularly scheduled non-stop flight to the Irish isle, as well as Seattle's first pre-cleared trans-Atlantic flight. Travelers on the flight will clear U.S. Customs and Immigration in Ireland before arrival into the United States, saving passengers time when they arrive in Seattle as the flight is treated as a domestic flight.
Aer Lingus is Ireland's flag carrier, largest long-haul carrier and part of IAG, the same ownership group that controls British Airways and Iberia. Their largest hub is in Ireland's capital of Dublin and they operate flights to over 90 destinations in more than 20 countries.
The addition of Aer Lingus at Sea-Tac marks the third international carrier planning to start flights to Seattle in 2018. These international flight additions continue to drive Seattle's growth and continue to make Sea-Tac one of the fastest growing airports in the United States.
Jace has been working at AirlineGeeks for nearly three years. Born in Seattle, Boeing and aviation quickly took over his life and he never stopped looking up. Jace enjoys plane spotting and taking trips just so he can fly. He is currently studying at Embry-Riddle Aeronautical University while earning his Bachelors of Science in Air Traffic Management.
Latest posts by Jace Moseley (see all)