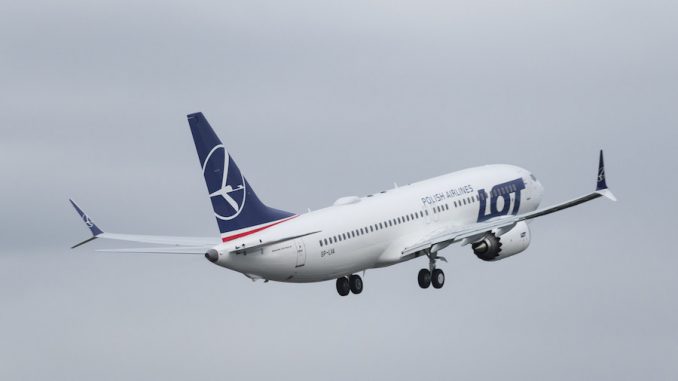 Polish carrier LOT has received its first Boeing 737 MAX under a leasing agreement with Air Lease Corporation. LOT will become the second European carrier after Norwegian to operate Boeing's overhauled 737 jet.
The 737 MAX 8 aircraft with the registration SP-LVA left Boeing's factory in Everett, Wash. ferrying to Warsaw via Reykjavik.
"We are proud to be one of the first carriers in the world with the state-of-the-art Boeing 737 MAX aircraft in our short- and middle-haul fleet," said Rafal Milczarski, chief executive officer, LOT Polish Airlines.
The aircraft is also the first of 139 737 MAX ordered by ALC. ALC will lease six of these to LOT under an agreement signed in October 2016. The outstanding five additional airplanes will join LOT's fleet by May 2019.
LOT plans to use the six 737 MAX 8 on its most popular short and medium haul routes, which includes London, Madrid, Tel Aviv, Vienna, Amsterdam, Paris, Frankfurt, and Barcelona. Based on information taken from LOT's online reservation system, the maiden flight of the new aircraft is scheduled for December 7 on the Warsaw-Frederic-Chopin to London-Heathrow route.
The Star Alliance carrier is in the process of modernizing and expanding its fleet. The first 737-800 joined the fleet in May 2016 and has since been joined by three other aircraft of the same type. LOT also uses older 737 and regional aircraft of the Embraer 170, 175 and 195 type as well as the Bombardier Q400 turboprop.
LOT Group, which also includes Estonian airline Nordica, plans to reach a fleet size of 75 aircraft by mid-2019, up from today's 54. Most of the additions will be for the 737 and 787 aircraft types. As Mr. Milczarski put it: "We are already one of the fastest growing European airlines […] LOT is again one step ahead to set the tone for shaping the future of aviation industry in our region."
Adrian joined AirlineGeeks as a writer in 2017. He had always wanted to become a pilot and while he chose a different career path for now, his interest in aviation continues to grow every day. Adrian was fortunate to travel extensively for business in the past five years. As a result, he focuses his research and writing on passenger services and experiences on a variety of airlines. His favorite aircraft include the Airbus A350, A380, and the Embraer passenger jets.
Latest posts by Adrian Vannahme (see all)