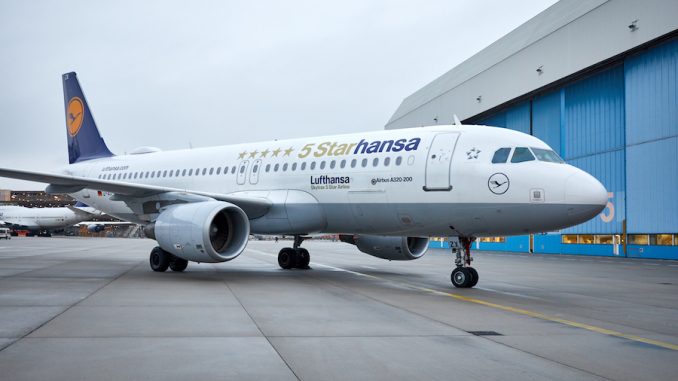 Lufthansa has just become the ninth airline to receive the coveted 5-star airline rating by Skytrax. The German carrier is the first European airline to receive the accolade, stating that it hopes the award will help the carrier achieve higher yields for its premium products and services.
"This is the well-earned recognition of our major efforts to make Lufthansa one of the world's leading premium airlines," Lufthansa Chief Executive Carsten Spohr said. It is the airlines second Skytrax award this year, after receiving the award for "Best European Airline", an award previously held by Turkish Airlines.
"We have caught up because we made huge investments in our fleet, updated all our cabins, introduced digital services, opened new lounges and improved service on board and on the ground. The combination of premium offerings with the quality and professionalism of our employees has earned Lufthansa the status of a five-star airline," Spohr adds.
Lufthansa has been investing in renewing its fleet, introducing new cabins across all classes while introducing new digital services and lounges. The carrier has continued its roll-out of its new Business and Senator Lounge products across its route network.
Skytrax introduced this airline ranking system in 1999, classifying airlines by the quality of its front-line product and staff service standards. Prior to Lufthansa, only nine other airlines had received the coveted accolade, with Qatar Airways, Singapore Airlines and Etihad Airways amongst the coveted few.
Edward Plaisted, CEO of Skytrax, said: "The achievement of 5-Star Airline status by Lufthansa is not only a great accolade as the first European airline to reach this target, but is a clear recognition of the improvements they have made in recent years, particularly in all areas of the frontline service delivery."
Lufthansa's CEO recognized his employees as the reason that Lufthansa received the award, stating: "Everyone at Lufthansa can be proud of this certification, especially our colleagues in the cabins and cockpits and on the ground who fulfill our premium promise every day in their interactions with our passengers. I am convinced that the most important factor in getting the fifth star was that we have the best employees."
Josh is a long-term aviation enthusiast and aspiring commercial airline pilot. From a young age, he has immersed himself in all things aviation. From plane spotting at local airports and airfield to racking up frequent flier miles on trips abroad, Josh is a huge AvGeek at heart. He graduated from university in September 2017 with a first class Bachelor of Science degree in Air transport. He completed his pilot training, gaining his Frozen ATPL in November 2017 upon completion of his Multi-Engine Instrument rating and Multi-crew/Jet orientation course. He currently has around 230 hours of flying experience in various aircraft. He hopes to join an airline as a first officer by the end of 2017.

He frequently flies on one of his favorite airlines, British Airways, and is an avid Avios collector and British Airways Executive Club member.
In his spare time, while not studying, flying or immersing himself in aviation he enjoys spending his time volunteering in a variety of roles and running a blog to help other aspiring pilots pursue their dream.
Latest posts by Joshua Drabble (see all)