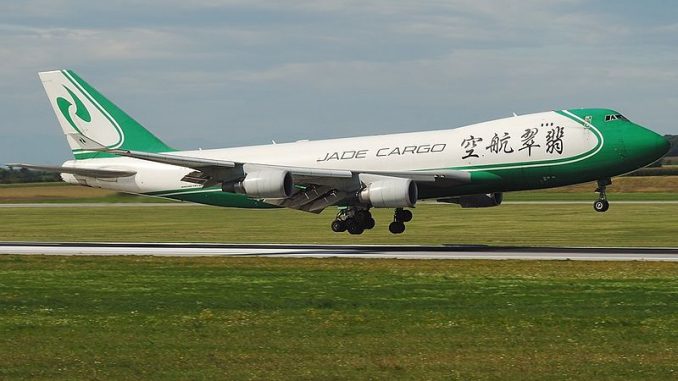 When the Chinese manufactured goods market booming in the early 2000s, airlines and investors were looking for ways to get involved in the trade of Chinese exports and invested heavily in creating cargo carriers. Here are two cargo airlines that got there start, and ultimately saw their end, during this period of increased trade in China.
Jade Cargo International was formed in 2004 with the goal being to fly between major Chinese markets and Europe. The carrier saw early investment from Germany with Lufthansa Cargo and German bank KfW investing a total of 49% in the company. The remaining 51% was owned by Chinese commercial carrier Shenzhen Airlines.
The carrier launched flights with a Boeing 747-400ERF in 2006, becoming the first foreign-invested cargo carrier in Chinese history.At its peak, Jade Cargo came to operate a total of six Boeing 747-400ERFs that operated between 21 cities in Europe and Asia, including hubs in Shenzhen, Shanghai Pudong, Frankfurt, and Amsterdam.
However, the Chinese cargo market was buried in competition from both domestic carriers like Great Wall Airlines and China Cargo Airlines, as well as international carriers like Cathay Pacific Cargo, All Nippon Cargo and Cargolux. Due to the high amount of cargo carriers, Jade Cargo struggled to turn a profit and by 2010 were in a desperate need for cash.
While Jade Cargo was on the decline, Korean Air decided to get involved in the Chinese cargo market. Korean invested a 25% stake to help Sinotrans the Chinese state-owned logistics company, start their own airline. The airline, named Grandstar Cargo, started operations in 2008 with a solo Boeing 747-400F that operated between Tianjin to Frankfurt, Shanghai Pudong, and Seoul-Incheon.
The goal with the Seoul hub was to allow for Grandstar Cargo to transfer to Korean Air Cargo, who operated a larger route map with more destinations. While Grandstar would start slow, their goal was to add more destinations in Europe and America once proven successful.
However, neither of these carriers lived up to their expectations. Jade Cargo was the first carrier to falter. The carrier was grounded in May 2011 as Shenzhen, KfW and Lufthansa Cargo met to discuss restructuring plans for the Chinese brand.
However, Lufthansa Cargo wanted out of the Jade Cargo deal, seeing that they had lost $47.5 million in the deal and the carrier was over $700 million in debt. With no possible deal to be made to structure the carrier, Jade Cargo International was folded and never flew again, officially liquidating on June 4, 2012.
Three of the airline's Boeing 747s were returned to lessors while the remaining three were put up for auction, which was finally purchased in 2017 by SF Airlines.
Grandstar lasted a few months longer than Jade Cargo, holding out till 2012 before succumbing to debt. The airline was in a $60 million hole and both Sinotrans and Korean Air were looking for a possible buyer. When no buyers were interested, the airline was terminated.
The lone Boeing 747-400F that Grandstar used was abandoned. It still sits abandoned today on the grounds of Beijing-Capital Airport waiting for a new owner.
Although Ian McMurtry was never originally an avgeek, he did enjoy watching US Airways aircraft across western Pennsylvania in the early 2000s. He lived along the Pennsylvania Railroad and took a liking to trains but a change of scenery in the mid-2000s saw him shift more of an interest into aviation. He would eventually express this passion by taking flying lessons in mid-Missouri and joining AirlineGeeks in 2013. Now living in Wichita, Kansas, Ian is in college majoring in aerospace engineering and minoring in business administration at Wichita State University.
Latest posts by Ian McMurtry (see all)