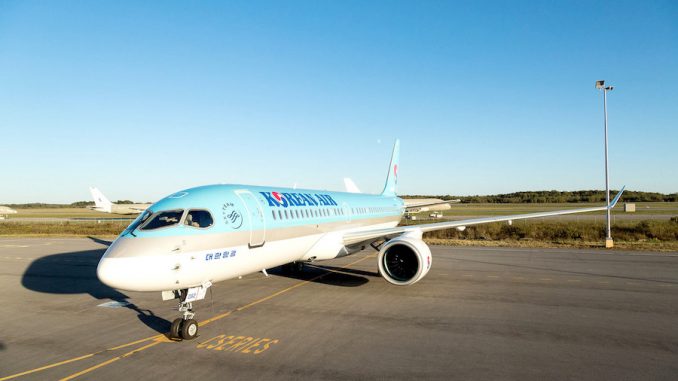 On Friday, Bombardier and Korean Air celebrated the delivery of the first CS300 aircraft to the Asian airline. The Seoul-based airline is the Asian launch customer for the new C Series aircraft family.
"This is a very important milestone for the C Series program because it is our breakthrough into the fast-growing Asian market, and we are honored to have Korean Air Lines as our brand ambassador in the region," said Fred Cromer, President, Bombardier Commercial Aircraft.
"We expect that over the next 20 years, Asian operators will take delivery of 2,870 small single-aisle aircraft. We are thrilled that Korean Air is the first in the region to showcase the CS300 aircraft's outstanding performance and capabilities," Cromer remarked.
The aircraft delivery ceremony took place at the C Series production facility in Mirabel, Quebec. The event included executives from Korean Air and Bombardier, as well as employees who built the C Series Aircraft.
"We have witnessed the C Series impressive first year in service, and are pleased to take delivery of our first Bombardier CS300 aircraft," said Soo-Keun Lee, Chief Technology Officer, Korean Air Lines. "When we selected the aircraft in 2011, we knew it would be a great addition to our fleet. Today, it is the most efficient aircraft in its class, and its passenger comfort is outstanding."
Lee added, "The CS300 aircraft will enable us to reinforce our regional single-aisle operations, while providing a high level of profitability and customer satisfaction. These are key drivers of our decision to acquire the Bombardier CS300, and we are looking forward integrating it to our fleet."
The delivery of this CS300 aircraft allows Korean Air to have better fleet allocation, thereby putting these "right size" Bombardier aircraft to lower-density regional routes. Other aircraft previously serving these routes will be moved to routes that are better suited for their capacity. The aircraft is equipped with 127 seats in a dual-class configuration with Premium Economy and Economy.

"We are thrilled for Korean Air to receive their first CS300 aircraft," said Rick Deurloo, Senior vice president of sales, marketing and customer support at Pratt & Whitney. "Pratt & Whitney has shared a long-standing relationship with KAL dating back to the late 1940's and we look forward to powering their new-generation fleet."
The airline is expected to take delivery of their second CS300 aircraft before the end of the year. The airline has had 10 firm orders for 10 CS300 aircraft, with options for 10 and purchase rights for an additional 10 since July 29, 2011.
Korean Air is currently the largest airline and flag carrier of South Korea. Before the delivery of the Bombardier aircraft, the airline's smallest aircraft were the Boeing 737 and the Airbus A321.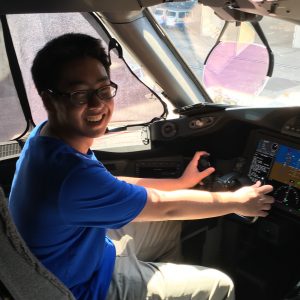 Ever since he made his first trip on a Boeing 747 in 2005, Samuel has been an AvGeek at heart. He is a dedicated United (ex-Continental) loyalist and frequent flier who attempts to live by Continental's slogan, "Work Hard, Fly Right." He has a huge love for the Boeing 777 along with any other Boeing wide body aircraft. Samuel is an avid collector of all types of airplane memorabilia ranging from model airplanes to in-flight magazines. In his free time, Samuel enjoys playing guitar and piano, and he is constantly on various airline websites scanning for any breaking news.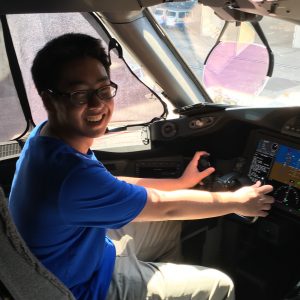 Latest posts by Samuel Chen (see all)