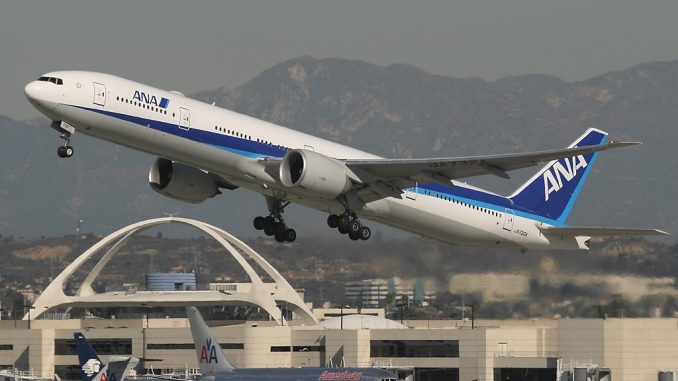 Japanese airline All Nippon Airways, or ANA, made headlines Wednesday when flight 175, their scheduled 11-hour flight from Los Angeles International Airport to Tokyo's Narita Airport, turned back to LAX mid-flight when the crew reported an "unauthorized passenger" onboard the aircraft after 4 hours flight time.
CNN reported that the flight had departed LAX at 11:36 a.m. PST and landed safely back at LAX at 7:33 p.m. PST where it was met by LAX Airport Police and agents of the FBI. Initial reports from the airline described the situation as an "administrative mixup" and problems with a customer's "flight arrangement".
Whilst it appears that this week's situation was a case of a passenger boarding the wrong aircraft, it was elevated to media attention due to concerns of security breaches and a series of tweets from model Chrissy Teigen, who was onboard the flight.
Though unconfirmed by ANA, Teigen tweeted that passengers onboard had been told that the "unauthorized" passenger had a United Airlines ticket and was on the wrong airline. The model, who has over 9 million followers on Twitter, questioned the boarding process which led to the situation: "So basically the boarding pass scanner is just a beedoop machine that makes beedoop noises that register to nowhere."
ANA's response to the situation has come under scrutiny with customers and media questioning why the decision was made to turn back to LAX rather than continuing to NRT if there was no threat to the safety of the aircraft.
According to the Transportation Security Administration, the passenger was traveling with his brother to Tokyo and had passed all of the TSA's security checks. No security violations, beyond boarding the wrong flight, occurred and the passenger was not a security threat. The passenger's brother was traveling on the ANA flight, while the passenger was flying on a United Airlines flight.
Confusion may have occurred as the ANA flight was codeshared with United, as the two are part of the Star Alliance, and had a United flight number. However, this simple mistake should've been picked up by gate agents at LAX or during the headcount by flight attendants once onboard the Boeing 777-300ER aircraft.
As full details of how ANA's 'flight to nowhere' are slowly emerging, an investigation is underway. It's important to note that there have been several other reports this year of similar situations of passengers boarding the wrong aircraft and ending up in the wrong destination.
In May, The Economist reported the case of a French woman booked to travel from Newark to Paris who ended up in San Francisco. A subsequent investigation revealed that there had been a last-minute announcement of a gate change but the customer did not speak English. Further oversights occurred with the woman being able to board the SFO flight at the gate shown on her boarding pass, find that her seat was taken but then being seated elsewhere and the flight departing.
In August, the Times reported the case of a British man who thought he was boarding his Eurowings flight back to the UK was able to board a flight from Cologne to Las Vegas. Though this does not compare with the infamous story of the customer in 1985 who boarded a flight in Los Angeles for the one hour flight to Oakland, California but instead arrived in Auckland, New Zealand 13 hours later.
The young man, dubbed 'Wrong Way Mike', became a cause celebre in the pre-internet days appearing on multiple TV shows to tell his tale.
With technology and the 'self-service' nature of air travel, human-error appears to be the main reason for situations such as this week's ANA flight. In a Huffington Post story in 2015, an airline employee gave the following as reasons for the likelihood of these occurrences: "prevalent among them, inattentive and/or overworked gate agents multitasking under time pressure and passengers not paying attention to their gate surroundings or looking at their own boarding passes."
In an increasingly pressured aviation environment, especially during the holiday seasons when passengers are worn down and anxious to get on their flights, it is certain that these kinds of situations will continue to happen, resulting in the embarrassed press releases of affected airlines and bemusement and consternation of fellow travelers on social media.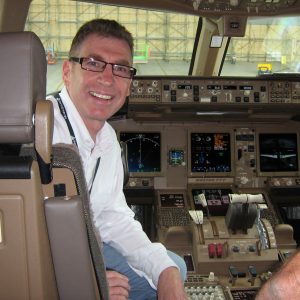 John has always had a passion for aviation and through a career with Air New Zealand has gained a strong understanding of aviation operations and the strategic nature of the industry. During his career with the airline, John held multiple leadership roles and was involved in projects such as the introduction of both the 777-200 and -300 type aircraft and the development of the IFE for the 777-300. He was also part of a small team who created and published the internal communications magazines for Air New Zealand's pilots, cabin crew and ground staff balancing a mix of corporate and social content.

John is educated to postgraduate level achieving a masters degree with Distinction in Airline and Airport Management. John is currently the course director of an undergraduate commercial pilot training programme at a leading London university. In addition he is contracted as an external instructor for IATA (International Air Transport Association) and a member of the Heathrow Community Fund's 'Communities for Tomorrow' panel.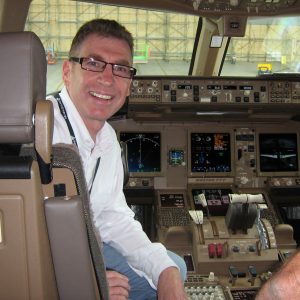 Latest posts by John Flett (see all)