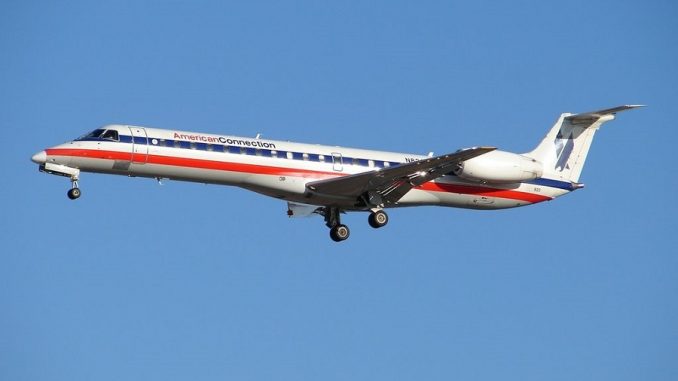 Trans World Connection was originally a small regional and commuter airline that operated on behalf of Trans World Airlines in the 1990s. The airline used a small fleet of Saab 340s, Jetstream 41s, and ATR 42s to provide connection services from their hubs in St. Louis, New York-JFK and Los Angeles.
While regional arms of a major airline are not usually successful, Trans World Connection was able to see some success while operating next to TWA's other regional arm, Trans World Express, which used Embraer ERJ-140s and other larger 50 seat aircraft. Both brands would later be incorporated into American Airlines when they merged following TWA's bankruptcy in in 2001.
Under American Airlines' control, Trans World Connection was rebranded into AmericanConnection and remained with their current route map at the time, while the airline was simultaneously making cuts to the Trans World route map post-September 11th.
However, following the crash of AmericanConnection flight 5966 operated by Corporate Airlines and the rising costs of operating a small fleet, American started overhauling the regional carrier's fleet. The first order of business was removing propeller-driven aircraft in favor of Chautauqua Airlines-operated Embraer ERJ-140s. Despite more cuts to the American route map, AmericanConnection's route map remained largely unaffected.
Despite the small fleet, AmericanConnection planes flew frequently and, at their peak, the carrier operated 180 flights a day to 21 destinations across the United States. The airline was not alone, however, sharing the workload with American's other regional carrier, American Eagle.
Unfortunately, AmericanConnection's success was not able to last. The regional branch had lost two of its operators when RegionsAir terminated service in 2007 and Trans States Airlines switched to flying for United Airlines in 2009. This was all happening while American's parent company, AMR Corporation, was struggling to turn a profit, resulting in heavy cuts to one of AmericanConnection's hubs in St. Louis.
With Trans World's hub at St. Louis removed as the airline now flew for United, American made the decision in 2010 to move all remaining Midwest-based AmericanConnection flights from St. Louis-Lambert to Chicago O'Hare. The move ending operations that began years ago at St. Louis with Trans World Connection.
The final blow to AmericanConnection came in 2012 when then bankrupt AMR Corporation announced that the contract with Chautauqua Airlines would no be renewed and AmericanConnection would cease to exist when the contract ran out in 2014. The regional airline would operate its last flight on August 29, 2014, with AmericanConnection flight 5329 touching down that night in Chicago-O'Hare to mark the end of the carrier.
With the discontinuation of the AmericanConnection brand, American Eagle and SkyWest assumed control of the old Chautauqua routes. No American routes or schedules were impacted by the loss of the carrier. The end of AmericanConnection was also part of the wind down of Chautauqua Airlines, who would terminate all of their flights by the end of 2014 as parent company Republic Airlines was undergoing a restructuring.
American Airlines' regional brand was now entirely marketed and sold as American Eagle. Most of the old Chautauqua fleet was dispersed when the carrier was terminated in 2014. However, a flew of the old AmericanConnection ERJ-140s still operate for South Africa's AirLink and Australia's JetGo Australia.
American Airlines' regional brand would change again in 2014 when American Eagle was rebranded as Envoy, its current name.
Although Ian McMurtry was never originally an avgeek, he did enjoy watching US Airways aircraft across western Pennsylvania in the early 2000s. He lived along the Pennsylvania Railroad and took a liking to trains but a change of scenery in the mid-2000s saw him shift more of an interest into aviation. He would eventually express this passion by taking flying lessons in mid-Missouri and joining AirlineGeeks in 2013. Now living in Wichita, Kansas, Ian is in college majoring in aerospace engineering and minoring in business administration at Wichita State University.
Latest posts by Ian McMurtry (see all)