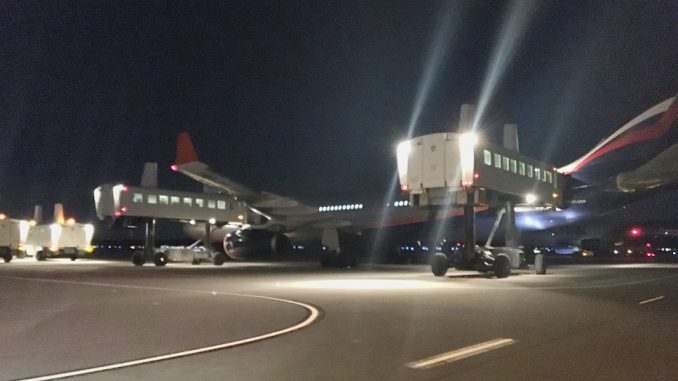 As the first blizzard of 2018, also known as a 'bomb cyclone,' bore down on the Northeast, flights to major airports, including Boston Logan, Philadelphia, and New York, were disrupted.
American Airlines canceled more than 1,300 flights on Thursday and 360 on Friday, while Delta canceled approximately 750 mainline and regional flights on Wednesday and Thursday for airports stretching from the southeast to Maine. The carrier also says they've canceled roughly 300 flights on Friday as a result of the storm.
New York's John F. Kennedy International Airport (JFK) announced it would suspend flights around 8 a.m. on Thursday morning leaving dozens of international flights without a place to land. This prompted many airports along the East Coast, including Washington Dulles, to spring into action and begin accommodating these extra flights.
For planespotters, these diversions were a sight to behold with many trying to pinpoint a flight's diversion point as soon as it passed over Newfoundland.
Two Airbus A380s along with other diversions on approach to Dulles (Photos by AirlineGeeks | Craig Fischer)
Dulles took 24 international and seven domestic diversions. These flights came from places as far as Abu Dhabi to as close as Atlanta.
Overlooking Dulles from a chopper on Friday morning (Photos by NBC Washington)
Both Etihad Airways and Emirates brought in Airbus A380 aircraft. Russian flag carrier Aeroflot landed three aircraft: a Boeing 777-300ER, an Airbus A330-300, and another A330-300 later in the evening on Thursday.
There were plenty of rare sights from carriers that do not serve the airport regularly, including a Thomas Cook A330-200, a XL Airways A330-200, and Norwegian 787-9 aircraft.
Diversions aren't uncommon at Dulles. In fact, the airport is a primary diversion point when New York and Philadelphia are down for the count. However, Thursday was different. The airport had to continually stretch itself to accommodate the influx of traffic, including the more than 1,200 passengers that needed to be processed at Dulles' International Arrivals Building (IAB).
Aircraft resting on hard stands on Friday morning (Photos by Sam Sweeney)
Each airline had their own way of dealing with the fiasco, which continued well into Friday, even though some did not have service staff at the airport. Emirates chartered buses to move passengers to JFK, while approximately 500 people slept in the airport overnight.
Passengers onboard an Aerolineas Argentinas flight bound for New York-JFK arrived at Dulles around noon on Thursday, only to wait four more hours to deplane while on the ground. The airline has no service staff at Dulles, so the airport decided to deplane passengers and move them to the terminal.
While the airport filled up quick, a 1960s-era design was put to the test: the mobile lounges. A staple of Dulles Airport, some of these bus-like people movers can attach to aircraft, like a jetway, and deplane passengers, bringing them straight to the customs facility. These proved vital on Thursday due to the vast number of people that needed to be safely transported across the airport.
Around 10 p.m. on Thursday night, Dulles needed more space to park these diverted aircraft. With the "R" ramp and "Whiskey pad" already full, the airport decided to close runway 01L/19R to park more jets.
"Despite a challenging travel day, Dulles International thanks it's visitors—intended and unintended—for their patience as our team worked with airlines to coordinate Immigration and Customs processing, baggage handling, passenger outreach, customer service support, refreshments and onward accommodations," Andrew Trull, a spokesman for the Metropolitan Washington Airports Authority (MWAA) commented.
Even though Dulles took a majority of the diversions, many other airports accommodated these flights, such as Chicago O'Hare and even Stewart International Airport, which took Singapore Airlines flight 26, an Airbus A380, from Frankfurt. JetTip, a site that tracks unique flights, created a list of flights that were forced to divert on Thursday in light of the storm.
JFK reopened at approximately 7:00 a.m. Eastern time on Friday morning, meaning many of these flights made the short trip from their diversion point to the Big Apple.
Ryan founded AirlineGeeks.com back in February 2013 (actually, it was called Aviation Official, but we've changed a bit since then). From being on the yoke of a Piper Navajo, to visiting about Delta's operations center in Atlanta, Ryan has done it all. in 2016, along with American Airlines, Ryan masterminded AAviationDay at more than 10 locations around the world. The smell of jet fumes in the morning along with the countless number of passionate airline employees keep him enthralled in the industry, always seeking more. You can find him helping out travelers at Reagan National Airport near Washington, D.C. when he's not doing something for AirlineGeeks.
Latest posts by Ryan Ewing (see all)