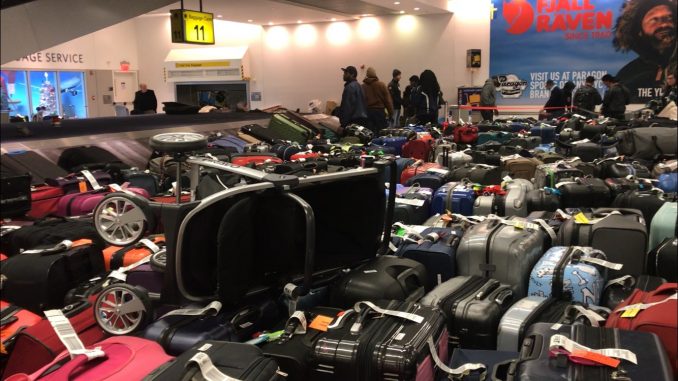 Due to winter storm Grayson, New York's John F. Kennedy International Airport (JFK) has experienced its fair share of issues. Sunday was no different in bringing weather-related issues to the airport.
A frozen water pipe connected to the terminal sprinkler system busted around 2 p.m. local time. The flood resulted in the baggage claim and customs area of Terminal 4 needing to be evacuated. 
The terminal operator tweeted a statement from Shawn Makinen, Vice President of Facilities for JFKIAT at 2 p.m. local time saying, "As a result of a water main break at JFK Terminal 4, which caused flooding in the Arrivals Hall, inbound international flights are currently suspended. We are working closely with local agencies and authorities, as well as on-site emergency maintenance personnel to resume normal operations as quickly as possible."
@JFKT4, the official Twitter for terminal 4, Tweeted Monday that the terminal was fully operational four hours after the flooding began. They added that JFK International Air Terminal worked "closely with agencies and authorities as well as on-site emergency maintenance personnel." All flights resumed normal operation at 9:45 p.m. local time.
JKFIAT added that large amounts of luggage are still in the baggage claim area.
"What happened at JFK Airport is unacceptable, and travelers expect and deserve better," said Port Authority Executive Director Rick Cotton. "While the water pipe break that occurred appears to be weather-related, we have launched an investigation into the incident to determine exactly what occurred and why an internal pipe was not weather protected and whether any other failures contributed to this disruption."
The terminal, much like the rest of JFK, is expected to operate in a crippled fashion for some time.
The airport has been severely impacted by winter storm Grayson. The airport, along with other New York airports, suspended operations on Thursday due to whiteout conditions. JFK limped along to clean up massive amounts of snow and makeup thousands of canceled flights.
On Saturday, a China Southern Boeing 777's wing tip struck the rear of a Kuwait Airways 777. The collision added insult to injury to the airport by causing even more delays.
Matthew Garcia became interested in aviation at the age of 12 when he installed Microsoft Flight Simulator X on his computer. He was instantly "bitten by the bug" and has been in love with aviation ever since. Matthew took his first introductory flight in 2013 and began normal flight training in February of 2015. Over the years, Matthew's love and knowledge for aviation has grown tremendously, mainly due to FSX. Garcia flies highly advanced aircraft in a professional manner on a highly complex virtual air traffic network simulating real world flying. In 2016 Matthew achieved his private pilot certificate from the FAA. Now he studies journalism at the University of Nebraska at Omaha.
Latest posts by Matthew Garcia (see all)