When it comes to airports in the middle of nowhere, Denver International Airport (DEN) is probably the most notable. This big city airport is the largest airport by total land area in the U.S, is right in the middle of the great plains of Colorado, yet it is close enough to the exciting developments taking place in downtown Denver that it's only 30 minutes away by commuter train.
Just last year alone, the airport served more than 58 million passengers, and that number is bound to increase almost exponentially in the next ten years with the increasing number of flights from new and existing airlines and the economic boom taking place in Denver.
DIA is not only a major hub for United and Southwest, but it is also home to Denver's "hometown" airline, Frontier – although most local Denverites agree that it is no longer Denver's own with Frontier's focus on several other new cities. Frontier Airlines is a major ultra-low-cost carrier headquartered in Denver with ambitious plans for growth in the next five years.
It will be delivering 78 new Airbus aircraft to facilitate its increased flight frequencies and an addition of several new destination cities. Frontier has also purchased larger real estate near DEN for its headquarters in Denver and will soon be relocating from its current location five miles away to this new location.
United and Southwest recognize Denver as a competitive market in the U.S. and aren't ceding to Frontier at DEN yet. In fact, both carriers compete intensely with Frontier at the airport, making moves to keep prices down and trying to acquire customers from one another. Southwest and United also heavily plaster their advertisements all over the Jeppesen terminal to remind travelers that they are also Denver's "hometown airline."
DEN is composed of three detached midfield concourses – conveniently named Concourses A, B and C from south to north – and one 1.5 million square foot terminal building (The Jeppesen Terminal) housing ticketing, baggage claim, ground transportation, TSA, offices, and several food and beverage outlets.
The terminal is named after Elrey B. Jeppesen, most known for developing manuals and charts for early air navigation in a time before radar. Concourse A is linked to the Jeppesen terminal by sky bridge, but all other concourses have to be accessed by a people mover.
All three concourses at DEN are connected to the Jeppesen Terminal by an underground automated people mover system. Unlike the people movers used at other airports, the airport uses the voices of Colorado celebrities (e.g. Alan Roach and Mayor Michael Hancock) for the train announcements that warn passengers about closing doors, and arrivals and departures on the trains.
DEN officials are currently seeking new voices to replace the current ones, and they are currently holding competitions for one man and one woman to take over. These announcements are also accompanied by melodic jingles – known collectively as "Train Call" – that greet travelers in the underground stations. The jingles are constructed from traditional folk songs such as "She'll Be Coming 'Round the Mountain" and serve as melodic preludes to the voice messages.
DEN is also an architectural landmark home to several notable art pieces and landmarks spread throughout the airport. They include a beaded passenger crossing in the shape of a Native American teepee (Beaded Circle Crossing), installations in the people mover tunnels (Kinetic Air Light Curtain), a sunken garden with elements inspired by ancient history (Interior Garden), a 32-foot-tall blue horse with glowing red eyes (Mustang), and several colorful murals depicting different thoughtful themes. The artwork purposefully enhances the public spaces and brightens the dim corridors of the concourses.
Unfortunately, DEN is also the center of several strongly-backed conspiracy theories since it opened in 1995. The airport's runways resemble the shape of a swastika when seen from above, the "Mustang" artwork commissioned by the airport actually killed its owner and is claimed to be demonic because of its glowing red eyes, the baggage claim area is lined with several gargoyles, and lastly there are several artworks in the terminal that seem to show the collapse of society and civilization. One mural, in fact, portrays a scary Nazi soldier with a quote from a child who died at Auschwitz.
The most mysterious part of all of these conspiracy theories is that a lot of money was spent on building the airport. The airport was built nearly $2 billion over budget and behind schedule, and not everyone is sure how the money was even spent. Some speculate that the airport is a post-apocalyptic fallout shelter for the global elite, and some construction workers even claim that the reason why the airport was built so far behind schedule is because there are a series of underground bunkers beneath the airport.
The airport says that this is not true, and that the complex network of tunnels built are today's people mover rail tunnels and underground space for moving baggage from the terminal to the concourses.
Although it suffered from the recent economic downturn, DEN is now seeing a boom again from Denver's growth as a large job center, its role as a tech incubator, economic investment in the city's urban core, and its transition from a car city to a more transit-accessible city. The airport now has a high-speed commuter train that connects to several other transit lines at Denver's Union Station in downtown, and the airport train station now serves as an intermodal facility housing remote check-in counters, a Westin Hotel, a convention center, and an outdoor plaza for the city holding events such as an ice skating rink and monthly concerts.
With Frontier, Southwest, and United growing the number of flights to meet the demand of the city and the growth of the airport as a transit point for several flights, DEN officials are already intent on spending more than $1 billion over 34 years to renovate the entire airport.
The project is known as the Great Hall Project, and already, passengers are already seeing upgrades to the passenger facilities and more modern local Colorado eateries spread throughout the terminal and concourses. Several famous local eateries such as Root Down, SmashBurger, and Elway's have recently set up shop at the airport. Denver is also very well-known for its breweries, and several beer purveyors like New Belgium Brewing and Coors have also not missed out on this opportunity to open at the airport.
Although most passengers who transit through DEN might not be familiar with Denver, there is great local pride in the airport that can be felt throughout the concessions and stores. At the airport, you can drink Colorado-brewed beer, try beef jerky, sample Native American crafts, and find interesting reads from multiple Tattered Cover Bookstore outlets.
Most notably, a lot of famous local restaurants have set up shop at the airport to give first-time visitors a taste of true Colorado farm-to-fork cuisine. Very soon, Denver Central Market, a famous food hall from Denver's RiNo neighborhood, will be opening a smaller version of its food hall at the airport with diverse dining ranging from to-go to sit-down options.
It's very easy to dismiss this airport like any other, but truly, DEN is a gem in the middle of the Rockies that shouldn't be missed on one's next layover.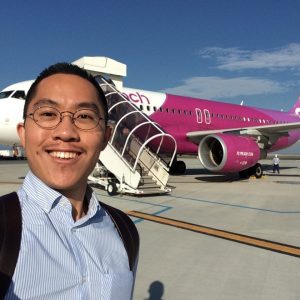 Most people hate long flights or overnight layovers, but Albert loves them. The airport and flying parts of traveling are the biggest highlights of any trip for him – as this avgeek always gets a thrill from sampling different airline cabin products and checking out regional developments happening at local U.S. airports. He's flown on almost every major carrier in the U.S. and Asia Pacific, and he hopes to try out the new A350s soon.

Albert recently completed his undergraduate studies in Business Accounting at USC in Los Angeles and he is currently recruiting for a corporate analyst position at one of the U.S. legacy carriers. During his college years, he interned at LAX for Los Angeles World Airports working behind-the-scenes (and on the ramp) in public relations and accounting. Outside of writing for AirlineGeeks, he enjoys trekking the Hollywood hills, visiting new hotspots throughout SoCal, and doing the occasional weekender on Spirit Airlines.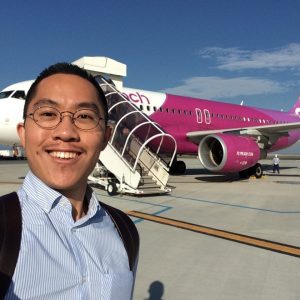 Latest posts by Albert Kuan (see all)