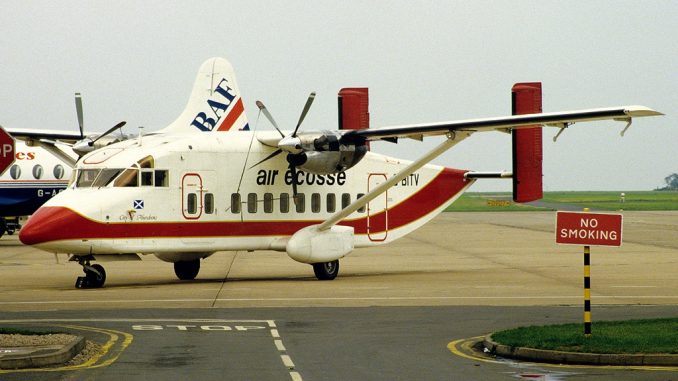 In June 1977, Scottish carrier Air Ecosse took to the skies on its inaugural flight from Aberdeen to Wick, Scotland. The subsidiary of parent company Fairflight Charters, the airline operated both scheduled passenger flights and mail flights on behalf of Royal Mail.
Simply designed, many of its aircraft featured a white body with a basic red stripe running down each side, and referenced itself with slogans such as "Your Friendly Scottish Airline" and "The Businessman's Wings," which appeared on various timetables over the short years of its existence.
Air Ecosse's hub was located at Aberdeen, and initial destinations included Glasgow, Manchester, Wick, Sumburgh, and Dundee. Three years into the launch of operations, the carrier expanded its route network further and began mail operations.
Over the course of its history, the airline served airports in various different countries. While the bulk of their routes focused on Scotland and England, it also served cities in the Faroe Islands, Denmark, Ireland, and Northern Ireland.
The airline operated several different short-range aircraft types, primarily the DHC-6 Twin Otter, Short 330-200, Embraer EMB-110 Bandeirante, Britten-Norman Trislander, and Handley Page HPR-7 Herald 209.
In November 1988, just a brief 11 years after beginning operations, the commuter airline was taken over by Peregrine Air Services Limited. It was rebranded as Aberdeen Airways, which filed for bankruptcy protection soon after and eventually failed.
Ashley is currently a senior in high school and plans on pursuing a career in aviation or journalism. Her favorite airplanes include the Boeing 777, 737MAX, and Airbus A350. She enjoys taking flights on various airlines to different airports and planespotting at her local airports.
Latest posts by Ashley Magoon (see all)