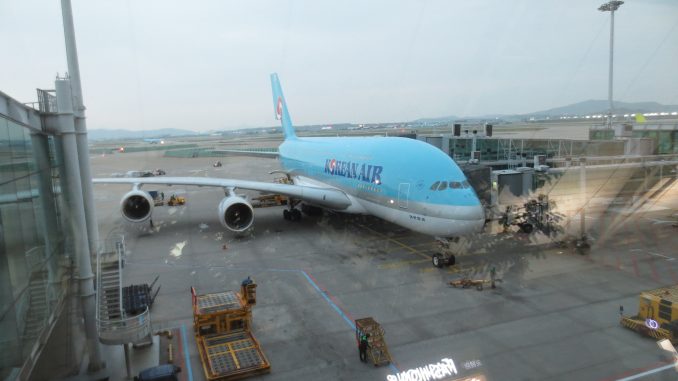 Seoul's Incheon International Airport, the main international gateway to South Korea, will open its second passenger terminal to the public on Jan.18. Starting that date, Korean Air will no longer operate from the main terminal, which will be renamed Terminal 1, and will move all its domestic and international operations to the new Terminal 2.
The new terminal opens ahead of the 2018 Winter Olympic Games in PyeongChang. As the main international gateway for the country, most visitors to the Olympics will enter here. The closest airport to the PyeongChang ski resort area, Yangyang Airport, will also see an increase in flights as the Olympic event approaches.
At its pre-opening ceremony on Jan. 12, South Korean President Moon Jae-in applauded the terminal's cutting-edge facilities and ability to process more than 72 million travelers a year, up from its original 54 million. Moon further added that he pledged to support Incheon's expansion so that it can accommodate around 100 million passengers a year by 2023.
The soft-opening date was set to allow airport staff to become accustomed to the operations of the new terminal and to facilitate the arrival of athletes who will participate in the Olympic games that kick off on Feb. 9.
More than 4.9 trillion won, approximately 4.5 billion United States dollars, was spent on the 7.4 million square foot Terminal 2 project (Phase 3 of Incheon Airport's construction plan). The five-story terminal is made up of the latest in smart technology, including roaming information robots, self-check-in kiosks, full-body scanners, automatic boarding systems and solar panel roofing.
Furthermore, the terminal will feature sleeping boxes, a transit hotel, sports facilities, gaming areas and an aircraft observation deck. Passengers will most likely be amazed at the vast open space of the Great Hall, which extends from the basement to the third floor and features a media wall and several landscaped areas.
The terminal design is based on the concept of Bonghwang, a Korean mythological beast symbolizing longevity, strength, and balance. The terminal features Korean design patterns, as well as locally-sourced granite and wood. There are also several sculpture and exhibition areas, indoor gardens and streams.
Incheon Airport has received many international awards since its opening in 2001 and it has climbed the ranks to become one the world's elite airports. It is currently the 24th busiest airport in the world and it is highly-regarded for its five-star facilities and an array of shopping, dining and entertainment options spread throughout the airport facility.
Terminal 2 will be exclusively used by Korean Air and its SkyTeam partners, specifically Delta, Air France and KLM. All other airlines, including Asiana, will still continue to operate from Terminal 1. Other SkyTeam members will be served in Terminal 2 later on.
A Seoul-bound Korean Air flight from New York's JFK Airport is scheduled to be the first flight to make use of the facilities of the new terminal. A Korean Air flight to Manila will be the first to depart from the new terminal.
The Airport Railroad Express (AREX) to Seoul will also be extended to the second passenger terminal. Terminal 2 will have an all-inclusive transportation center, like Terminal 1, that will house not only AREX, but also short-term parking, buses traveling to other regions and possibly high-speed KTX train services to Busan and Gwangju.
Currently, Korean Air and Asian Airlines share the same space and operate most of their flights from the gate slots available at Terminal 1. Terminal 1 is composed of a main terminal building and a separate passenger concourse. All other airlines use the Concourse, which is connected to the main terminal by underground inter-terminal train.
Both terminals will be connected airside by an underground inter-terminal train, Intra Airport Transit (IAT). If passengers from Terminal 2 are connecting to flights at Terminal 1 or the Concourse area, they will take the Orange Line IAT to the Concourse between Terminal 1 and Terminal 2. At the Concourse, they will then transfer to the Blue Line IAT for Terminal 1.
A landside connecting system will eventually be built for employees and passengers.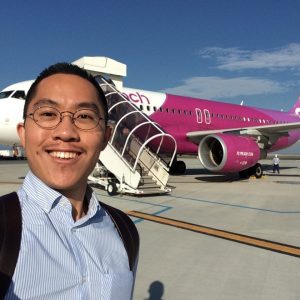 Most people hate long flights or overnight layovers, but Albert loves them. The airport and flying parts of traveling are the biggest highlights of any trip for him – as this avgeek always gets a thrill from sampling different airline cabin products and checking out regional developments happening at local U.S. airports. He's flown on almost every major carrier in the U.S. and Asia Pacific, and he hopes to try out the new A350s soon.

Albert recently completed his undergraduate studies in Business Accounting at USC in Los Angeles and he is currently recruiting for a corporate analyst position at one of the U.S. legacy carriers. During his college years, he interned at LAX for Los Angeles World Airports working behind-the-scenes (and on the ramp) in public relations and accounting. Outside of writing for AirlineGeeks, he enjoys trekking the Hollywood hills, visiting new hotspots throughout SoCal, and doing the occasional weekender on Spirit Airlines.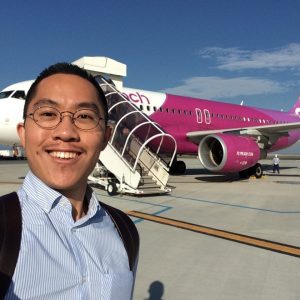 Latest posts by Albert Kuan (see all)