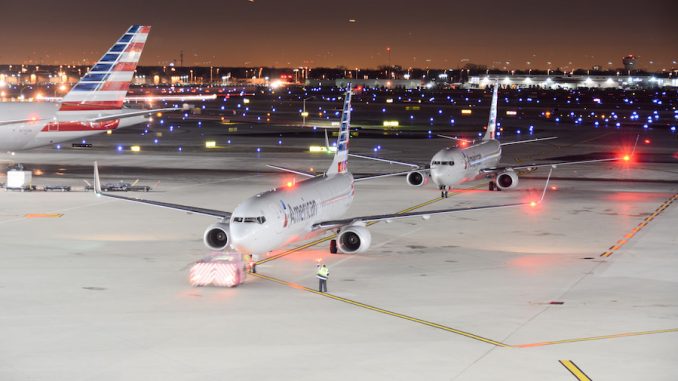 American Airlines recently announced that it would be launching its newest shuttle service between Chicago's O'Hare Airport and New York's La Guardia Airport starting on April 4 later this year. Along with the shuttle announcement, the Dallas-based airline announced the additions of another six destinations bringing their total new flights in 2018 up to 52.
The shuttle flights will operate 15 times per day during the week and will operate every hour on the half-hour out of dedicated and convenient gates at both airports. These gates will be located closer to the security checkpoints and baggage claim so customers won't have to walk far. Along with the special gates, the airline will also be offering expedited check-in along with free wine and beer on board, typical shuttle service amenities.
Currently, American operates shuttle services in the northeastern United States connecting Boston, New York, and Washington, D.C. with Airbus A319, Embraer E190, and Embraer 175 aircraft. The Chicago-O'Hare to La Guardia shuttle flights, however, will be operated by American's mainline Boeing 737-800 aircraft. American already maintains a heavy presence on this route, so the shuttle service will not be an addition to its current service but, rather, a rebranding of the route.
In a press release from the airline, Alison Taylor, senior vice president, Global Sales, and Distribution, said, "When you fly frequently for work, anything that can make the regular commute more comfortable is important. That's why we're pleased to offer valuable time-saving opportunities with our Shuttle, including a convenient and consistent schedule and extended check-in times for you and your bag."
Other flights that were announced will begin on June 7, with bookings opening on Jan. 22. These new flights include Philadelphia to Fort Wayne, Indiana; Oklahoma City, Oklahoma; and Pensacola, Florida. Chicago O'Hare will also see new flights to Wilkes-Barre/Scranton, Pennsylvania. Lastly, American hubs at Dallas-Fort Worth and Charlotte will see new flights to Panama City, Florida and South Bend, Indiana.
Regarding all of the new additions to the route map, Vasu Raja, Vice President, Network & Schedule Planning, said, "We are making it easier and more convenient for our customers to fly on American to places that are important to them all over the world, from serving smaller cities more frequently to visiting places we've never flown before."
Jace has been working at AirlineGeeks for nearly three years. Born in Seattle, Boeing and aviation quickly took over his life and he never stopped looking up. Jace enjoys plane spotting and taking trips just so he can fly. He is currently studying at Embry-Riddle Aeronautical University while earning his Bachelors of Science in Air Traffic Management.
Latest posts by Jace Moseley (see all)