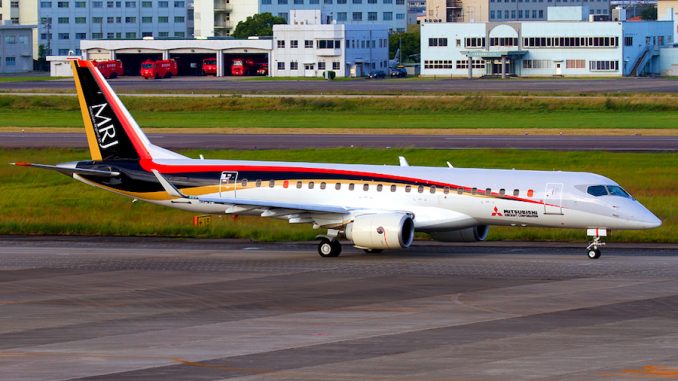 Mitsubishi Aircraft Corporation took another blow to the Mitsubishi Regional Jet (MRJ) program. The aircraft, already having been through major delays and higher than anticipated costs, had their first major customer cancellation of an order. Mitsubishi announced that Eastern Air Lines would be cancelling their order for the new regional jet.
This order cancellation does not come as too much of a shock following Eastern's failed attempt of revival. The airline merged with Swift Air in 2017, spelling an end to a highly anticipated rebirth of the classic airline.
Eastern had a total of 40 aircraft on the books with 2o being firm orders and the other half being options to purchase in the future. This is the most significant and first firm order to be cancelled. In 2013, ANI Group Holdings cancelled a memorandum of understanding for five jets.
Following the cancellation, Mitsubishi still has 213 firm orders for the regional jet from six different customers. The cancellation of the order does not necessarily spell the end of the MRJ in the United States as SkyWest alone has 100 MRJ90 aircraft on order with options for 100 more.
While it is not known what SkyWest plans to do in regards to the type, the continuous delays could spell disaster for the program. If SkyWest were to pull its orders, the corporation would lose nearly half of the 223 orders currently on the books.
The latest expected first delivery date is expected to be sometime in the middle of 2020. ANA Holdings is currently planned as the launch customer for Japan's first commercial airliner venture in over 50 years. Other companies that currently have the MRJ on order include Japan Airlines, Air Mandalay, and Trans States Holdings, a holding company for Compass Airlines, GoJet, and Trans States Airways.
Jace has been working at AirlineGeeks for nearly three years. Born in Seattle, Boeing and aviation quickly took over his life and he never stopped looking up. Jace enjoys plane spotting and taking trips just so he can fly. He is currently studying at Embry-Riddle Aeronautical University while earning his Bachelors of Science in Air Traffic Management.
Latest posts by Jace Moseley (see all)