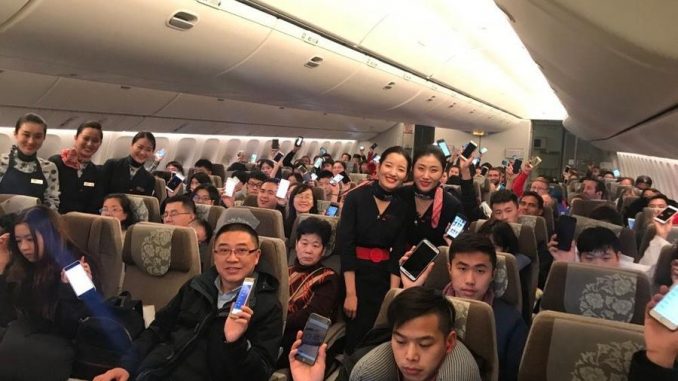 For the tech-savvy traveler, taking a flight on any Chinese airline (not including carriers based in Hong Kong, Macau, or Taiwan) tends to be bothersome because these carriers don't let you use smartphones or tablets on their airplanes, even in flight mode. That means you can't use your phone to connect to inflight Wi-Fi, snap pictures of the flight, listen to music, or even to find something with your phone's flashlight.
Phones have to be completely switched off during any flight on a Chinese airline. Sometimes, even the slightest appearance of your phone outside of your pockets would flag down a flight attendant telling you to put it away.
On Thursday, January 18, two of China's major airlines, China Eastern Airlines and Hainan Airlines, became the first two Chinese carriers to lift the ban and permit inflight mobile phone use in flight mode. The change also applies to Hainan's subsidiary, Lucky Air. This is expected to be quickly followed by several major and domestic Chinese carriers, but not overnight.
Air China also followed along, permitting users to switch on their mobile devices not long after the initial announcement. China's largest budget carrier, Spring Airlines, will be next to allow mobile phones to be used in flight mode starting next month.
Using your phone in the air is pretty common on other carriers outside of China, but the Civil Aviation Administration of China (CAAC) has kept this outdated policy over concerns of potential electromagnetic interference on aircraft systems. They were unsure whether or not flight mode actually blocks out all "potentially harmful signals."
Since 2013, the Federal Aviation Administration (FAA) in the United States has allowed phone use during all phases of flight after concluding that most commercial airplanes could tolerate radio interference signals from portable electronic devices. The CAAC was slow to do its own research into this and has only lifted the tight restriction on phones in September of 2017.
Many Chinese airlines offer free inflight Wi-Fi on their flights, however, in order to be used, you would've needed a larger device like a laptop. Before lifting the restriction, the CAAC listed using your phone as one of the "14 types of illegal behaviors" on airplanes that "endanger public safety."
The types of illegal behaviors include straightforward ones such as not opening the emergency exit or occupying seats that aren't yours, and using your smartphone was also listed as one of them. Violation of these rules can result in a hefty fine of up to 50,000 RMB (or $7,500 US Dollars), being blacklisted for travel, or even up to 10 days in detention.
The lifting of the ban was celebrated by the two airlines on earlier this month with passengers taking selfies on their phones.
Many Chinese airlines are also beginning to offer inflight Wi-Fi services on their aircraft to tap the huge market. In 2016, China Eastern became the first Chinese airline to offer inflight Wi-Fi on international routes. For most of them, service is free of charge to all first class and business class users, but passengers traveling in economy have to apply for the free service 24 hours before departure.
Although the CAAC has lifted the ban, individual Chinese airlines still have to apply for permission and complete an evaluation before they are allowed to make their own rules regarding phone use. China Eastern became the first airline to pass all these tests and announced this first on its official Weibo page.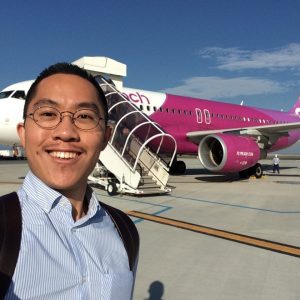 Most people hate long flights or overnight layovers, but Albert loves them. The airport and flying parts of traveling are the biggest highlights of any trip for him – as this avgeek always gets a thrill from sampling different airline cabin products and checking out regional developments happening at local U.S. airports. He's flown on almost every major carrier in the U.S. and Asia Pacific, and he hopes to try out the new A350s soon.

Albert recently completed his undergraduate studies in Business Accounting at USC in Los Angeles and he is currently recruiting for a corporate analyst position at one of the U.S. legacy carriers. During his college years, he interned at LAX for Los Angeles World Airports working behind-the-scenes (and on the ramp) in public relations and accounting. Outside of writing for AirlineGeeks, he enjoys trekking the Hollywood hills, visiting new hotspots throughout SoCal, and doing the occasional weekender on Spirit Airlines.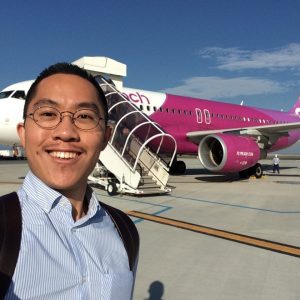 Latest posts by Albert Kuan (see all)