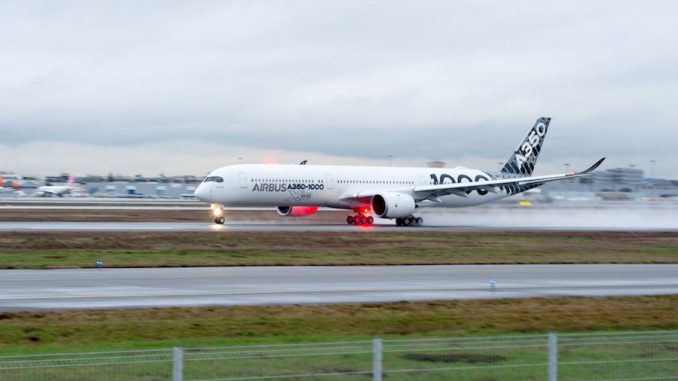 The Airbus A350-1000, the newest addition to Airbus' widebody family, has begun its three-week demonstration tour to the Middle East and Asia-Pacific Region. This tour comes in the wake of the aircraft's successful flight test campaign, ending with joint EASA and FAA type certifications, and is right ahead of the first customer delivery to Qatar Airways in the next few weeks.
The A350-1000 flight test aircraft, flying as MSN065, will be visiting 12 different destinations to demonstrate its capabilities to different airlines in the regions. The aircraft is to travel over 30,000 nautical miles with stops in Doha, Muscat, Hong Kong, Seoul, Taipei, Hanoi, Singapore, Bangkok, Sydney, Auckland, Tokyo, and Manila.
The aircraft will also make a stop for several days in Singapore for the Singapore Airshow 2018.
MSN065 is one of three A350-1000 test aircraft and includes a fully functional cabin fitted with 40 business class, 36 economy plus class and 219 comfort economy class seats. These demonstration flights will be operated by Airbus flight test crews.
As the newest member of the A350 extra widebody (XWB) family, the aircraft shares many similarities with the A350-900 such as 95 percent common system part numbers and the same type rating for pilots and other crew. The A350-1000 can also accommodate up to 40 more passengers than the A350-900, due to its longer fuselage.  
As of now, 11 customers have placed orders for the new aircraft, making for a total of 169 A350-1000 aircraft on order. Qatar Airways is one of the biggest supporters of the aircraft, with the largest number of A350-1000 orders.
One of the A350-1000's main competitors includes the Boeing 777-300ER. The largest Boeing twin-engine aircraft currently in service, the Boeing 777-300ER has a length of 242 feet and 4 inches, while the A350-1000 has a length of 242 feet and 3 inches, a mere one-inch difference. However, there are many differences between the two aircraft in terms of passenger comfort and airline sustainability as the Boeing 777-300ER is around 20 years old. 
Overall, the A350-1000 is a worthy competitor among other aircraft of its type due to its size, fuel-efficiency, and other new amenities. Through its tour in through the Middle East and the Asia-Pacific region, Airbus is pushing hard to get orders for one of its newest aircraft.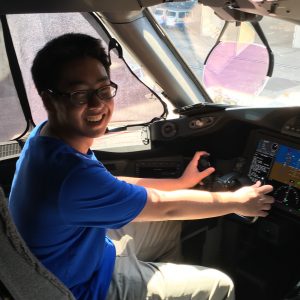 Ever since he made his first trip on a Boeing 747 in 2005, Samuel has been an AvGeek at heart. He is a dedicated United (ex-Continental) loyalist and frequent flier who attempts to live by Continental's slogan, "Work Hard, Fly Right." He has a huge love for the Boeing 777 along with any other Boeing wide body aircraft. Samuel is an avid collector of all types of airplane memorabilia ranging from model airplanes to in-flight magazines. In his free time, Samuel enjoys playing guitar and piano, and he is constantly on various airline websites scanning for any breaking news.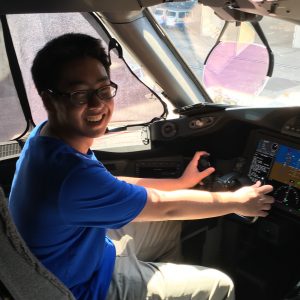 Latest posts by Samuel Chen (see all)