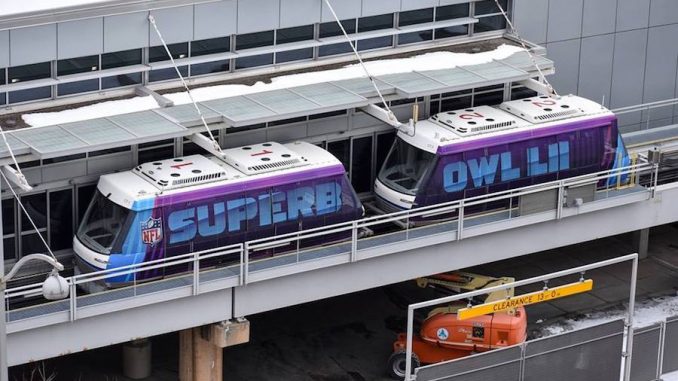 Many public spaces in the Twin Cities are covered in advertising promoting this weekend's Super Bowl, and Minneapolis/St. Paul International Airport is no exception. The airport's Poma-Otis trams feature large "Super Bowl LII" ad wraps.
Local aviation enthusiast John Newsome was watching airplanes from the MSP Terminal 1 parking ramp on Sunday. "I was getting some shots of the airport's afternoon arrivals when I saw the tram going by, and decided to take a photo of it." Newsome posted his image to the Minneapolis/St. Paul Aviation Spotting group on Facebook. Within a few hours, another user suggested manipulating the image to read "Superb Owl," which is both a well-established trope and a gentle jab at the birders who've been flocking to the aircraft viewing area to spot snowy owls.
David Riviera quickly rose to the challenge and posted a convincing manipulation. A web developer from the Twin Cities, Riviera has been working with Photoshop for twenty years, and it showed — after becoming the featured photo of the Facebook group, it quickly started making the rounds elsewhere on social media Monday afternoon.
The image likely would have faded into obscurity, however Rob Brzezinski, Executive Vice President of Football Operations for the Minnesota Vikings, confirmed to a reporter on Twitter that the image was genuine, claiming it was promoting the "Superb Owl," a fundraiser for several children's charities in Minneapolis. While the event and the manipulated photo contained the same cheeky joke, Riveria was unaware of it when he edited Newsome's photo.
Yes it is Rap! How about a retweet?! @Arete2a2e https://t.co/4F0cV4dH5b Tickets: [email protected]

— Rob Brzezinski (@BrzRob) January 29, 2018
With the apparent confirmation of an amusing ad campaign promoting a charity event, reporters ran with the story. In posts that have since been corrected, the Photoshopped image was featured by USA Today's For The Win blog, CBS Sports, and culminated with a feature on NBC's TODAY Show.
Riviera said he's still in shock. "I've heard people talk about going viral, and they've never expected it, and now I know the feeling."
For aviation geeks around the Twin Cities this week, The Patriots 767s are expected to make additional appearances at MSP, and over 1,500 additional aircraft are expected at area airports. If you're hoping to document some Super Bowl LII advertisements in your photos the clock's ticking. Melissa Scovronski, Manager of Public Affairs and Marketing at the airport, says the wraps and branding will be removed within a few days of the Super Bowl's conclusion this Sunday.
Nick Benson is a freelance web developer from the Twin Cities and operates JetTip, a website that tracks unusual flights in the U.S. and Canada. An avid photographer, he enjoys spending time watching trains and airplanes with his three children.
Our guest authors are contributors to AirlineGeeks.com who like to write, but don't necessarily have the time to be a full-time writer. Want to be a guest writer? Contact
[email protected]
for more information.
Want to join the team full time? Look for more information at the very bottom of the website.
Latest posts by Guest Author (see all)