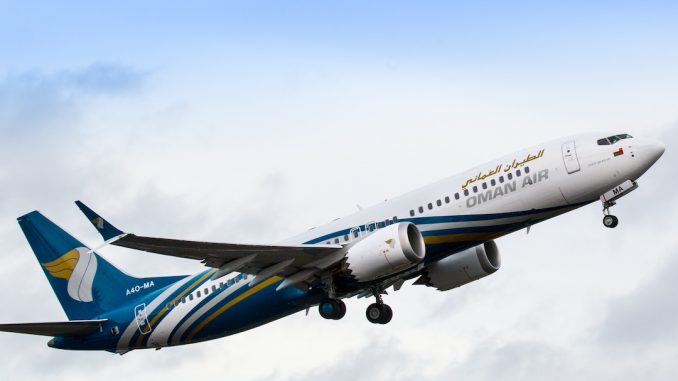 Oman Air took delivery of their first 737 MAX on Wednesday, just one of 30 MAX airplanes Oman's flag carrier has on order.
"At Oman Air, offering the best possible on board experience is key to our success and the 737 MAX has already earned a reputation for its exceptional performance, efficiency, and guest experience," said Abdulaziz Al-Raisi, Acting CEO, Oman Air.
"The aircraft will be a perfect complement to our 737 family as we continue to expand our operations and play an increasingly active role in promoting Oman for business as well as a unique tourism destination, which is growing rapidly in popularity with every passing year."
The airline will have it's 737 MAX 8 configured with seating for 162 passengers, and will offer business and economy class.
According to Boeing, Oman Air's 12 new business class seats are electrically-controlled and will offer passengers more privacy, and the 150 economy seats will have a new interior. Business class will feature 17" Thales Gen V touch-screen monitors, and economy class will have 10.2" monitors. Every seat aboard the aircraft will include a high powered USB port.
"Today marks another milestone in our 25-year partnership with Oman Air. We are proud to have supported their growth and we look forward to the 737 MAX taking the airline to new heights," stated Marty Bentrott, Boeing Sales Vice President for Middle East, Turkey, Russia, Central Asia and Africa.
The carrier ordered 20 MAX aircraft in October 2015, and later entered a lease agreement for 10 additional airplanes, according to Boeing.
Ashley is currently a senior in high school and plans on pursuing a career in aviation or journalism. Her favorite airplanes include the Boeing 777, 737MAX, and Airbus A350. She enjoys taking flights on various airlines to different airports and planespotting at her local airports.
Latest posts by Ashley Magoon (see all)