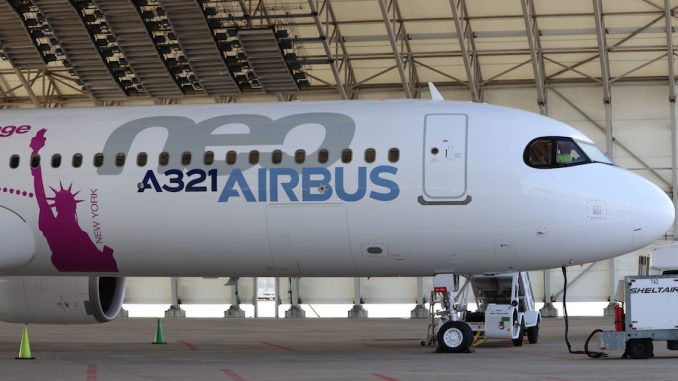 The Airbus A321LR — long range, has the ability to fly up to 4,000 nm nonstop. Two weeks into the flight testing phase, Airbus sent the future single-aisle aircraft across the Atlantic to show off its long-range capabilities.
With hopes of being the next mid-level market long-range aircraft and replacing the aging Boeing 757, Airbus successfully flew the Airbus A321LR non-stop from Paris-Le Bourget Airport to New York's JFK airport on Tuesday. Powered by two CFM LEAP-1A engines, it took the aircraft eight hours and 44-minutes to cross the Atlantic.
While arrival traffic into JFK was utilizing both runways, 13L and 22L, AIB321 requested for a 13R landing. Upon landing, the A321LR turned right onto runway 22R and pulled off to the side and sat there for quite some time keeping many wondering what was going on. The following day, AirlineGeeks learned that the A321LR set itself up for a beautiful, well thought out photo op with the New York City skyline.
Setting their sights on certification during the second quarter of 2018, Airbus plans on continuing flight testing with various aircraft configurations. The aircraft can be configured with three auxiliary fuel tanks. Airbus will continue flight testing with one, two, three and no auxiliary fuel tanks.
Customers can outfit the aircraft in a two-class configuration including full-flat seats or a single class configuration that can accommodate up to 240 passengers. Airbus has already secured over 100 orders for the aircraft type with the first delivery expected in late 2018.
AirlineGeeks photographer, Shaquille Khan, was given the opportunity to go aboard the test aircraft. Upon walking in the first thing you see is a huge poster boasting the A321LRs features.
To the left, a flight deck packed like a can of sardines were aircraft maintenance technicians from multiple airlines accompanied by the captain and the first officer. To the right, numerous flight testing equipment. The test flight engineer monitors various parameters throughout the entirety of the flight to replicate a live flight. There were approximately 90 seats occupied by PVC tube 'humans,' as if they were occupied by passengers.
The test flight engineer says he has been doing this type of testing for over 14 years. After resting for one day, the Airbus A321LR will depart from JFK airport on Thursday before continuing with more flight tests.
AirlineGeeks.com began in February, 2013 as a one-man (er… teenager, rather) show. Since then, we've grown to have 20 active team members, and yes, we're still growing. Some of us are looking to work in the aviation industry as professionals when we grow older. Some of us are still trying to decide what we want to do. That's okay though, because we're all here for the same reason: we love the airlines. We're the youngest team of airline industry journalists out there.
Latest posts by AirlineGeeks.com Staff (see all)