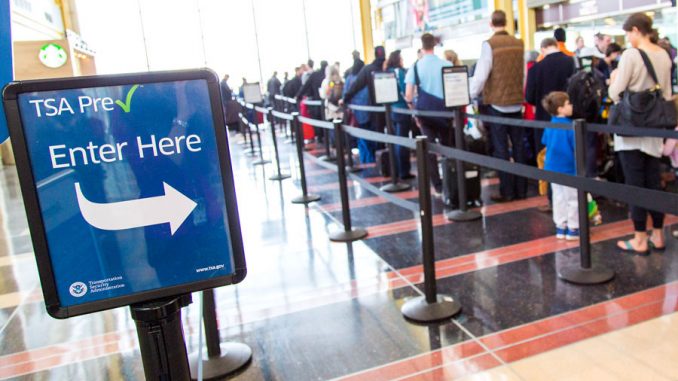 On Monday, President Trump proposed an increase to the Transportation Security Administration's (TSA) fees placed on airline tickets in order to upgrade the agency's current technology, as part of an effort to make the airport screening process more streamlined and efficient.
The $71 million upgrade will most likely see TSA fees on each one-way ticket increase from $5.60 to $6.60 beginning October 2018. In 2020, the fees will again increase from $6.60 to $8.25.
Airlines and Congress have opposed the higher fees both this year and last year when President Trump proposed the same change. According to Airlines for America, an airline trade group, the proposed fee increases could end up costing passengers an extra $2 billion a year.
"Increasing taxes in any form will add to the cost of flying for millions of Americans, curtail job growth and limit the options small and medium communities currently enjoy," said Airlines for America CEO Nicholas Calio. "Billions of dollars have already been diverted from aviation security to go towards deficit reduction or other sectors of government."
Improving the aging airport security technology became a priority last year after a few terrorism scares that occurred in other countries.
In Australia, a terror plot was foiled after suspected terrorists attempted to smuggle in an explosive made out of parts from a meat grinder. The explosive was found after authorities inspected the bag for being overweight. Somalia's Daallo Airlines also suffered a scare in 2016 after a laptop blew a hole into the side of an Airbus A321 aircraft.
The TSA has started to experiment with new security technologies across the country in order to further prevent incidents like those in Australia and Somalia. In Boston and Phoenix, the TSA has been testing out Computed Tomography (CT) scanners. The scanners allow for enhanced, high-resolution 3D images that can be altered to show the scanned items at different angles.
While the CT scanners have been used for years for checked baggage, the TSA hopes to implement them with carry-on luggage scanning as well. Some members have even advocated for CT machines at all U.S. airports and at 10 of the most uncertain origin airports, in terms of security, in foreign countries that send flights to the United States. The changes are being advocated despite already increased security measures at airports throughout the world for U.S.-bound flights.
New automated TSA scanners have already been rolled out in airports such as New York's JFK and Atlanta's Hartsfield, which aim to reduce the time it takes for passengers to clear the security checkpoint. However, those scanners have been met with controversy as critics say that the wait times are increased with the automation when lines are busy.  As more and more items are required to be put in bins, the increased number of bins slow down the entire scanner.
Last year, the TSA also modified its policies to require passengers to remove all electronic devices larger than a cell phone from their carry-on baggage. The TSA accepted that it would cause more of a hassle for passengers, but maintained that it would allow TSA agents to better inspect what was being brought aboard aircraft.
An "AvGeek" for most of his life, Akhil has always been drawn to aviation. If there is an opportunity to read about an airline, fly on a new airplane, or talk to anyone about aviation, he is on it. Akhil has been on over 20 different kinds of aircraft, his favorite being the MD-80. Additionally, he has visited 5 continents and plans to knock out the remaining two (Africa and Antarctica) soon. Based in Dallas, Akhil graduated from Texas A&M University with a degree in Management Information Systems and currently works in consulting. His dream is to become an airline executive.
Latest posts by Akhil Dewan (see all)