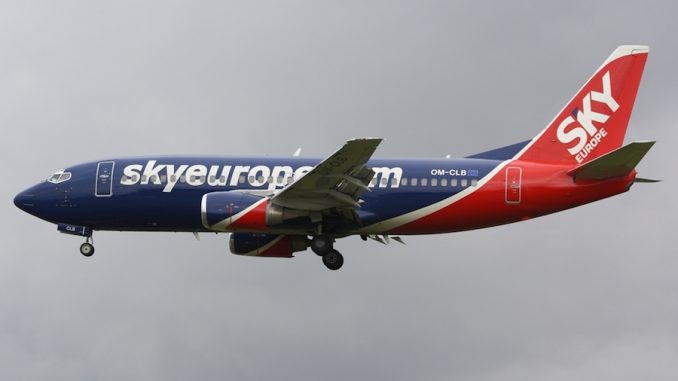 With the rise of low-cost carriers in Europe throughout the late 1990s and early 2000s, the idea of cheaper travel was catching, with airlines like EasyJet and Ryanair seeing massive expansion. Motived by the success of other low-cost carriers and seeing Eastern Europe as a potential new market, Slovakian investors invested in starting their own carrier, SkyEurope Airlines.
The airline originally launched from bases in Bratislava and Prague, hoping to attract Central Europe and Eastern European customers with a central point around the former country of Czechoslovakia. The airline also faced minimal competition in Slovakia, with the only other major carrier in Slovakia being the government-backed Slovak Airlines. The carrier officially launched flights on February 13, 2002, using Boeing 737-300s.
Despite the news that a new low-cost carrier had entered the market, SkyEurope started slow and didn't see a profit in its first few years. Although the airline faced little competition at Bratislava Airport, it could not combat the issue that Slovakia was closer to other larger airports like Vienna and Budapest and that rail travel reduced the demand to fly to nearby destinations. Although the airline was losing money, SkyEurope opted to expand, adding new routes and more Boeing 737s.
With SkyEurope starting to show signs of weakness and increasing pressure coming from expanding Wizz Air of Hungary, SkyEurope started to look for new potential hubs to find success at. Attempts were made to launch flights from Budapest, Hungary; Krakow, Poland; and Vienna, Austria, but all of these were abandoned due to lack of demand.
As the carrier fell further and further into debt, the advertisements became more and more desperate. In 2006 the airline ran a "get paid to fly" campaign in which those who booked their trip earlier received 10 Koruna (roughly $0.05), but would still have to pay for any additional taxes and fees. After that ad campaign failed, the airline turned to selling the sides of aircraft for advertisers, which was also not very popular.
In a last-ditch effort, the airline ran a marketing deal with various supermodels, including Adriana Kaermbeu of Slovakia and Laky Zsuzsanna of Hungary, to appear on the sides of their Boeing 737s. This marketing idea did not sit well with feminist activists, who called using the models to market the carrier as a cheap and sexist strategy.
Out of ideas and having never turned a profit, SkyEurope went bankrupt on September 1, 2009. The airline had attempted to claim creditor protection earlier in the year, but due to the debt that SkyEurope had gained, it still left the carrier seeing aircraft seized by airports in the months leading up to its demise. Due to the sudden stoppage of operations, relief flights were made with carriers like Wizz Air, Ryanair and Malev doing most of the relief work.
Unfortunately, the city of Bratislava received the worse end of the deal with the bankruptcy of SkyEurope. The major issue was that Slovak Airlines had also gone bankrupt due to increasing competition with SkyEurope, closing operations back in 2007. With no carriers left in Bratislava, the airport suffered until Wizz Air and Ryanair moved in to provide low-cost options for the city a few years later.
Although Ian McMurtry was never originally an avgeek, he did enjoy watching US Airways aircraft across western Pennsylvania in the early 2000s. He lived along the Pennsylvania Railroad and took a liking to trains but a change of scenery in the mid-2000s saw him shift more of an interest into aviation. He would eventually express this passion by taking flying lessons in mid-Missouri and joining AirlineGeeks in 2013. Now living in Wichita, Kansas, Ian is in college majoring in aerospace engineering and minoring in business administration at Wichita State University.
Latest posts by Ian McMurtry (see all)