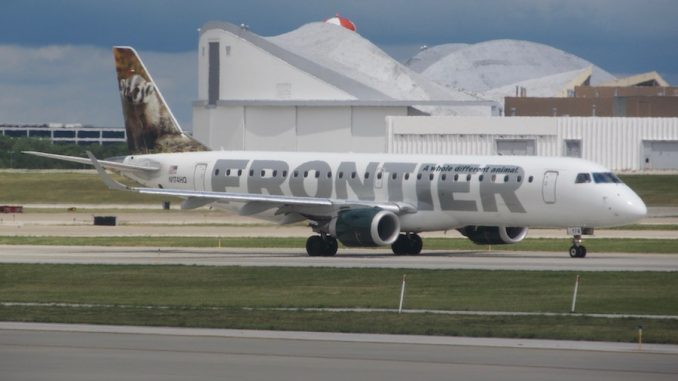 When it comes to most carriers' hub and spoke systems, they tend to rely on regional carriers to serve the smaller areas and allow passengers the ability to connect to most destinations. Although airlines like United Airlines and American Airlines have made this work, the same story cannot be said for Frontier Airlines.
Frontier had attempted before to serve smaller cities in the Colorado and Rocky Mountain areas through codeshares with Maverick Airways and Great Lakes Aviation. However, these programs saw limited returns on the young carrier and were continuously restarted and discontinued over the years.
Frontier's first regional carrier to have the Frontier name in it came with the arrival of Frontier JetExpress in 2002. JetExpress was originally operated by Mesa Airlines, who was also in contract with Phoenix-based America West, to fly Bombardier CRJ-200s from Frontier's hub in Denver. The regional carrier's route map consisted of Albuquerque, Austin, Boise, Oklahoma City, Ontario, San Jose, Tucson, and Wichita.
However, the deal with Mesa Airlines was quickly terminated in 2004 when Frontier learned that Mesa would start working with United Airlines in Denver as well. The airline instead formed an agreement with Alaska Airlines-owned Horizon Air to operated a half dozen Bombardier CRJ-700s to operate the same route map that Mesa had operated for them.
The deal with Horizon Air lasted for two years until Frontier's management looked at the cost of using the CRJ-700 and decided to terminate their contract with the regional carrier. Instead, a new carrier owned by Frontier would take its place. The carrier would be named Lynx Aviation and would operate a fleet of Bombardier Dash 8 Q400s for Frontier. Furthermore, with the arrival of Lynx, the JetExpress title would be dropped from the regional arm's name.
The first Q400 was delivered to Lynx in 2007 and started operations later that year operating a similar route map to that of the previous regional operators. Unfortunately, the slowing of the U.S. economy due to the recession of the late 2000s and a heavily competitive Denver market with United and Southwest resulted in both Frontier and Lynx losing money.
By 2008, Frontier was bankrupt and the airline was looking for a buyer. Luckily, Frontier found a buyer with Republic Airlines, who had done some Embraer ERJ-170 flying for the carrier in the past. Republic Airlines took a chance and bought the airline, in an attempt to make it profitable again.
While under Republic control, the mainline carrier was merged with Midwest Airlines and took control of the Chautauqua ERJ-135s and Republic ERJ-190s that were under contract with Midwest prior to the merger. The aircraft would bear Frontier colors but would remain on Midwest's previous routes, especially in their hubs like Milwaukee and Kansas City.
But Frontier was still struggling under Republic's control and in 2012 the executive decision was to end Lynx Aviation in hopes of making the carrier more profitable. This was also a result of a marketing change at Frontier as the carrier was moving priority away from being a hub and spoke carrier and more open to being a low-cost carrier. Frontier had moved aircraft away from Denver in favor of opening new hubs in Orlando and Trenton, all while removing smaller aircraft like the Airbus A318 and A319 from their fleet. Due to Lynx being suspended, the less profitable cities that the regional arm flew to were terminated.
With only Republic's aircraft left in Frontier's regional fleet and the Milwaukee hub consistently underperforming, Frontier pulled the plug on the Midwest hub and the regional carrier. The airline returned the last Embraer ERJ-135 to Chautauqua Airlines in January 2013 and would return the last Embraer ERJ-175 and ERJ-190 later that year when the airline was sold to Indigo Partners.
The end of regional jets at Frontier was a sure sign that the carrier had given up on being a hub and spoke carrier and would focus on serving more of the low-cost carrier market similar to Spirit Airlines and Southwest Airlines.
The airline's smallest aircraft is currently the 150 seat Airbus A319, of which the carrier operates 18 of them. Most of Frontier's regional aircraft would go on to new homes across the world with some of the new operators ranging from US Airways and Aeromexico Connect to Myanma Airways.
Although Ian McMurtry was never originally an avgeek, he did enjoy watching US Airways aircraft across western Pennsylvania in the early 2000s. He lived along the Pennsylvania Railroad and took a liking to trains but a change of scenery in the mid-2000s saw him shift more of an interest into aviation. He would eventually express this passion by taking flying lessons in mid-Missouri and joining AirlineGeeks in 2013. Now living in Wichita, Kansas, Ian is in college majoring in aerospace engineering and minoring in business administration at Wichita State University.
Latest posts by Ian McMurtry (see all)